The Seattle area was a bit hot, but nevertheless wonderful, as I started my itinerary.
My first stop was Redmond, where I briefly toured the Microsoft Campus. Microsoft's official mailing address is One Microsoft Way.
The Microsoft Campus was a very large corporate park. One thing I liked about the layout was that there were plenty of green spaces, many of them being used as soccer fields, like this.
I rented an economy car to get maximum gas mileage. This is a Chevy Aveo, which was actually built in Korea by Daewoo, now a GM subsidiary. It pretty much drove like what I thought a $10K Korean car should drive. I had to give up power windows, CD player, and armrest, but those sacrifices were worth it.
Note the California license plate on the car, even though this car was based at the SeaTac airport. Everyone thought I had driven all the way up from Los Angeles.
A typical Seattle vista, seen from Asian Art Museum at Volunteer Park. The Space Needle and the Olympic Peninsula are visible in the distance. Seattle is full of vistas like this, and I loved being there for that reason.
This is the Wildrose, Seattle's main lesbian bar, located on Pike Street on Capitol Hill. In business since 1984, it claims to be the oldest women-run bar on the West Coast. I repeatedly went back here, and loved the atmosphere - gorgeous women enjoying a good evening out at the pool table, at the bar, at the dining tables, everywhere.
I noticed that men and transgenders were also very welcome here as well. In fact, I once returned here with one of DiAnne's male friends.
No, I didn't fly off to Vietnam. I continued my tour of Capitol Hill, and ran into this upscale, nice Vietnamese restaurant named Pho Cyclo, located across Broadway from Urban Outfitters. It was very hot in here, and you may notice me sweating in this photo. Of course, living up to my nickname, I am wearing my trademark miniskirt.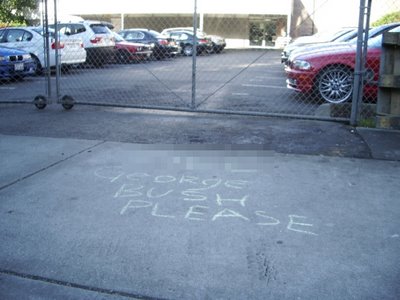 This BMW dealership is probably the only place on Capitol Hill that a Republican may ever visit. Appropriately, someone wrote this message on the driveway, calling for bodily harm of W, so that some Republican may see it and get pissed off. I had to pixelate the top word, otherwise I may be sent off to Guantanamo myself.
DiAnne's VW New Beetle has lots of bumper stickers adorning its rear window.