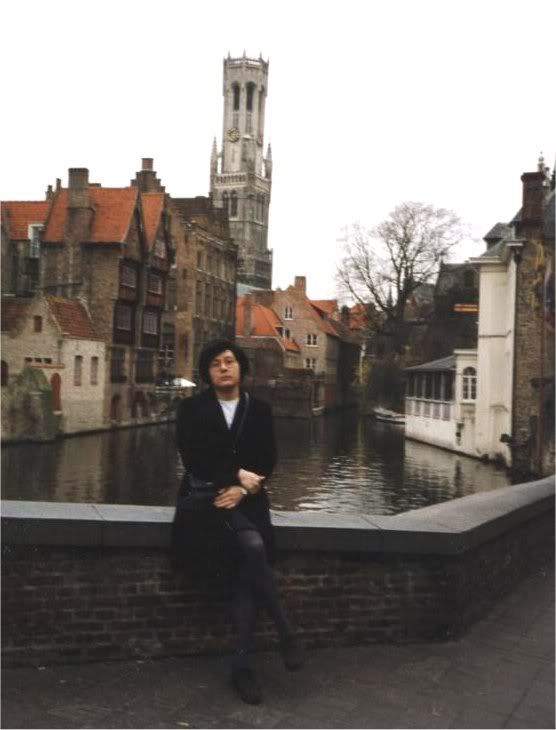 (Photo: me next to a canal in Bruges, Belgium, on March 16, 1998.)
For me, March is a special month.
Back in college, mid-March was when I had my spring breaks. In my four years in college, I stayed put in New York City only once. I came back to California once, and the other two were spent in Europe. And it's those European spring breaks that have meant so much to me.
Today, as it turns out, is the 12th anniversary of my first arrival in London (or anywhere in Europe). Being able to mingle with a New York-based student group for most of the trip, but also to explore London on my own toward the end, was simply priceless.
And ten years ago was my final spring break - one that took me not only back to London, but on to Brussels and Paris, my first visits to both. Brussels and Bruges were underrated cities that nevertheless showed off many different charms, and Paris, the city I always wanted to visit since childhood, lived up to my lofty expectations. I still remember strolling the Versailles grounds and rushing through the Louvre like it happened just yesterday, even though it's been ten (!) years now. The trip ended nicely in London, as I sped in my rental car toward Stonehenge.
This second trip was extremely special, since in developing the theme of self-discovery that I had initiated during my first London trip, I made the trip under my newfound female identity - the first time I traveled overseas as Rachel. As I look at the photos from that trip, I see myself in the then-popular wrap skirts and other dressy fashions, and my facial expressions betray the frustrations I had with the religious extremists back in New York. But the important thing is that I made this trip at all, and still managed to have a good time.
I've never had another trip anywhere near that memorable since then. My third European trip, to Amsterdam and Cologne in 1999, was a disaster, and my fourth and final one, back to the now-familiar stomping grounds in London and Paris in 2003, was just to "prove" that I could still eke out a decent time in Europe, not to make new valuable memories. And now, I find myself with decent bank account balances (a luxury I didn't have when I made all those trips), but the lack of free time and the unfavorable exchange rates conspire against me. Another special European trip can't come soon enough. Until then, I will have to sit on the old memories.