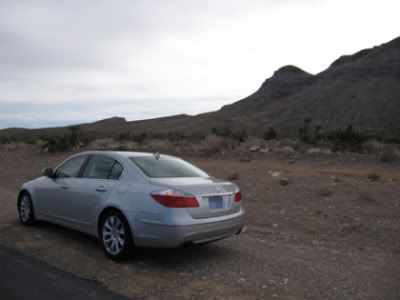 Several new developments are welcoming me and Gwaneum One.
First, the prestigious
North American Car of the Year
award, which is handed out every January, has gone to the Hyundai Genesis this year. This is a great award, as it is an independent award done and paid for by fifty jurors, all of whom are automotive experts but write for very different audiences, from performance freaks to consumer activists to everyone in between. I'm glad to know that Gwaneum One is a winner - and that she is every bit deserving of the win. Of course, this is the first time that a Korean car has ever won the award.
I'm starting to tap online resources as well, for parts, accessories, and enthusiast communities. I've found a number of sources for parts and accessories; some are Hyundai dealerships around the US which sell genuine US-spec parts and accessories at a discount, while a specialty shop, run by a Phoenix-based Hyundai and Kia dealership, can get me Korean-market accessories. If I ever decide that Gwaneum One ought to look like a Korean domestic market Genesis (complete with the wing logos and the BH380 trim badging), I can do that, though for a steep price (primarily due to the steering wheel logo having to be replaced, which also requires the airbag to be replaced). I'd rather have Gwaneum One carry the standard Hyundai logos as it does now. And there are enough owner communities out there, some generic Hyundai and some Genesis-specific, that I should be able to get information on improvements and problem fixes before most other people. It's kind of hard to find such communities with some cut-rate vehicles, mostly domestics. (And I can no longer stand the cockiness of BMW community groups - I'm glad that I'll never have to drive another BMW again.)
News feeds also tell me that Hyundai moved 6,167 Genesises across the US in 2008. Wikipedia calls this a "flop," but considering the price tag and the state of the economy, this is hardly a flop, though it's not exactly runaway success either. It bears remembering that US sales began only in very late June, and vehicles with navigation and/or V8 weren't really around until September anyway. Hyundai appears to be selling about 1,000 to 1,200 per month, which is a very respectable number for the price range, and similar to the numbers racked up by the likes of Lexus GS and Infiniti M. And there are no aggressive sales incentives either. The real goal here is not to move the most cars, but rather, to improve the perception of the Hyundai brand and get people to buy even the cheaper Hyundais with more confidence and joy. That's what the original Lexus LS400 did for Toyota and other Japanese brands, as well! I am starting to spot a Genesis every other day or so. If Hyundai needs to sell enough cars to justify the development costs, that can be very easily done in South Korea and China.
Last, but not the least, California DMV has processed Gwaneum One's registration much quicker than usual, and I've received the standard plates today. Of course, they won't last long, as I will swap them for the vanity plates when they are ready. But I'm glad that I no longer have to drive Gwaneum One with just a 90-day windshield temporary permit (which also happened to advertise my name and address to any passerby); now, I can drive anywhere in the US, and after a talk with my insurance agent, into Canada as well.