This post is a test of my Photobucket account. At the rate I take photos, I will run out of Blogger space before I know it!
My folks have returned from their Christmas/New Year's trip, so I have to put up with them for now. They are happy about my car swap - but NOT happy that I had to do it behind their backs. However, I still feel that I had no choice; not only did they force me to keep driving a cursed Ford Contour (and rack up unreasonable traffic tickets and repair bills) until it literally conked out, but they would've certainly done everything to ensure that the BMW would stay with me forever as well.
They did say that I could've sold the BMW to them - or to another acquaintance - for more than the pittance that I got. The BMW could've replaced some other, aging vehicle among my acquaintances. But that was not really my intention; my intention was to ensure that no BMW product would ever stay within my circle of acquaintances, period.
In any case, I won't be living with them much longer anyway. Time to move on to the family business and other more pressing issues. For now, however, here are the final batch of photos from the night before their return. I traveled to Griffith Park and Hollywood for some more photo ops, ensuring that both my car, Gwaneum One, and my camera, a Canon, would give me as much of the spirit of Kwan Yin as possible.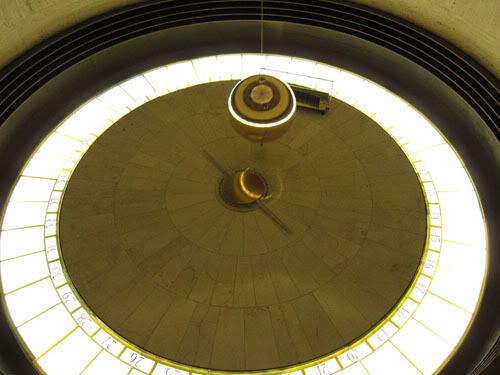 I've arrived at Griffith Observatory, which closed in 2002 for renovations, and re-opened in 2006 (though requiring advance reservations for a visit). The advance reservation requirement went away in late 2007, allowing me to drive Gwaneum One right up to the parking area. The renovations created many new exhibit areas while preserving the best of the old.
One of the older attractions is above. It's the third Foucault Pendulum I come across in just over two months.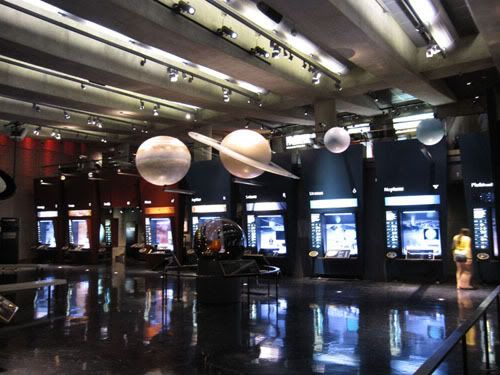 Here's a newer area, dealing with the stars and the planets. This photo shows the relative sizes of the solar system's planets. Here, Pluto is still considered a planet (it was demoted shortly after the observatory re-opened). Some faraway bodies that challenge Pluto's planetary status are indeed discussed alongside Pluto itself, however. Under each planet, I may weigh myself and see how much I'd weigh on the corresponding planet.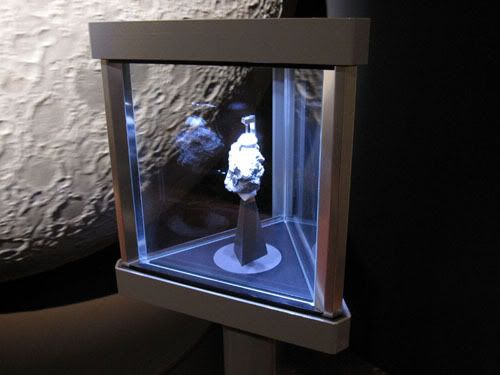 Nearby is a globe of the moon, along with this actual moon rock. The violet lighting on the moon rock is overexposed in this photo. I haven't figured out how to adjust the ISO rating on my camera manually, however.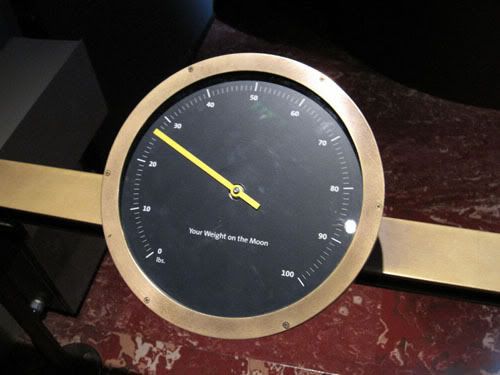 My moon weight is about 26.5 pounds.
My Earth weight is now 150 pounds. I did lose weight - and I am certainly out of the plus size territory. Thank all the good food and walking from my three months in Seoul and Hong Kong. I do weigh more than an average woman, but then, I have the extra weight of the male skeleton to deal with.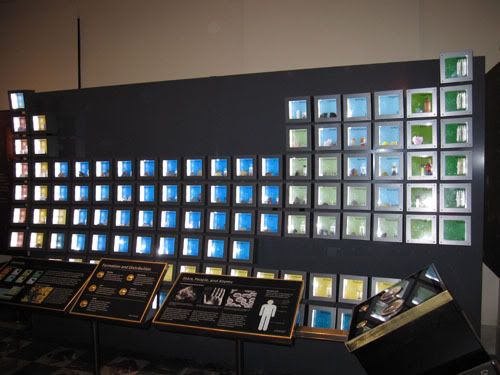 Here is a very nice periodic table of elements, with samples of each element. Of course, heavy radioactive elements can't be sampled here - some are so unstable, they can only exist for tiny fractions of a second anyway!
The element numbers go up to 111 now, and yes, all have proper names. The captions here say that the universe started out with just hydrogen, fusion power in stars create helium, then dying stars create all other elements up to uranium (92). Anything with higher element numbers must be created artificially.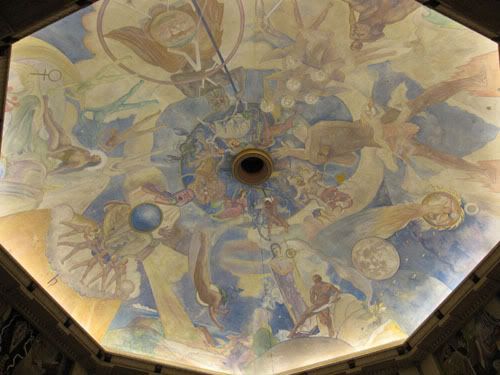 Here is another old element that is restored: the rotunda above the Foucault Pendulum. Looks mythical but can't really tell what's up there...
The observatory is free, but I paid $7 to take in a planetarium show, detailing the evolution of astronomy from the ancient times through Ptolemy and Galileo to today. The narration was live, and the images lovely, but the planetarium projector didn't see much use...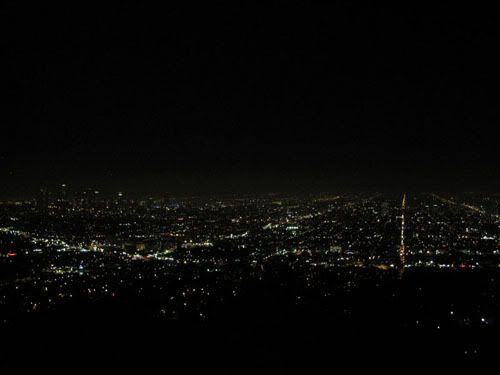 Los Angeles city night lights. One feature of Los Angeles is that the gridlike street light patterns appear to extend forever. As much as I hate LAX, I love landing there at night, due to all the lights.
The downtown skyscrapers are on the left. On the right are some major buildings of the Mid-Wilshire District, which is now surrounded by the ever-growing Koreatown. I repeat my vow to avoid taking Gwaneum One to Koreatown as much as I can, as I drive her to carry the forward thinking of the South Koreans rather than the backward thinking of the Korean-Americans.
The ISO number goes only up to 400 automatically with my camera, which is why the lights are dimmer than they should be. Again, I need to figure out how to do manual adjustments.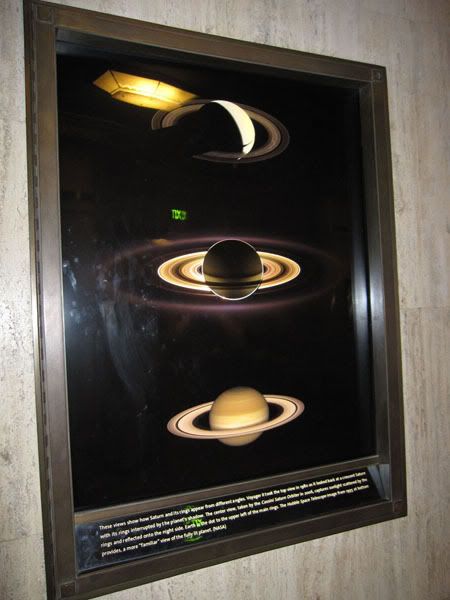 A series of three Saturn photos. The top is from a Voyager mission three decades ago. The bottom is from Hubble Space Telescope above Earth. The middle, with Saturn blocking out the Sun completely, is from the Cassini spacecraft - and is completely new to me. I love the way the rings glow under the sunlight.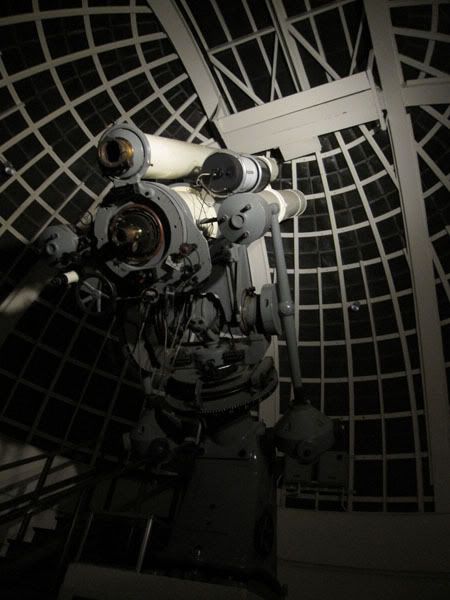 This is the public Zeiss telescope that makes this observatory famous. Unfortunately, it's having problems, and is not open tonight.
I did walk around and find two portable telescopes. One, next to the telescope dome, was pointed at the moon, for a good look at some of the craters. The other, on the lawn, was pointed at the Orion Nebula; my own telescope does show the Orion Nebula okay, but this larger telescope showed it in more detail. Of course, the nebula glows in a faint blue; those spectacular pink photos require hours of camera exposure.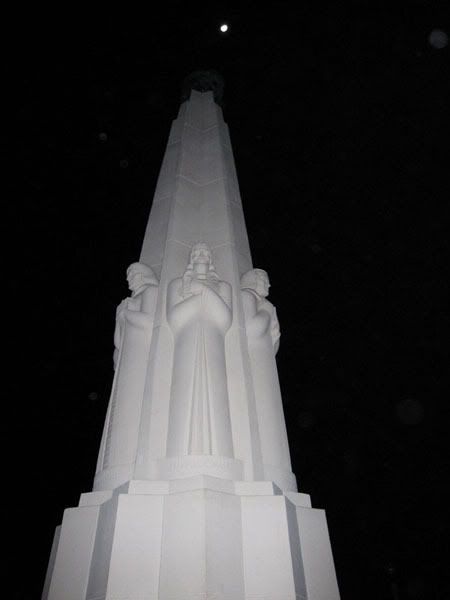 On the lawn, north of the observatory itself, this monument stands to honor various astronomers over the past several centuries. Normally, the monument should be lit, but not on the night I visited; the light is from my flash.
And it's the gibbous moon overhead.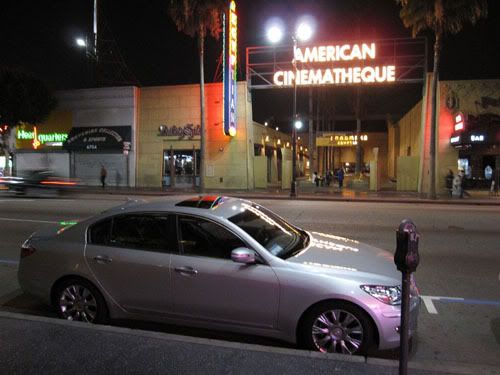 I didn't feel like returning home, so I took Gwaneum One over to Hollywood. I parked her on Hollywood Boulevard, across the street from the Egyptian Theatre. Of course, here is another night lighting camera test.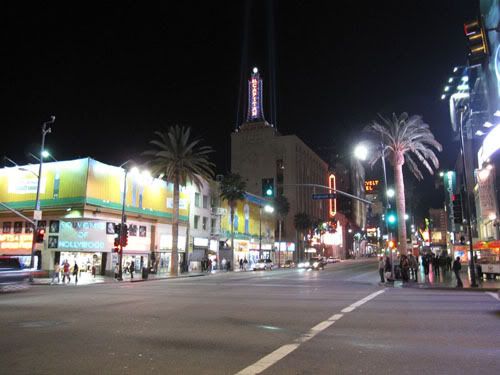 Hollywood and Highland - a very famous intersection, and for the past several years, home to a posh shopping mall and Kodak Theatre as well as a subway station.
I am looking west from the northeast corner. A bit to the west on Hollywood Boulevard is the El Capitan Theatre, which was restored by Disney. There is a Disney Store there. Also around me are a Frederick's of Hollywood lingerie store and an American Apparel store, as well as many tacky souvenir stalls.
This is probably the Los Angeles equivalent of San Francisco's Fisherman's Wharf - a place where the crowd is more likely to be tourist than local.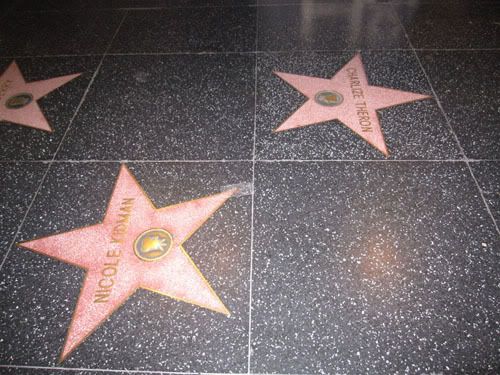 Two Walk of Fame stars. Great to know that they are Nicole Kidman and Charlize Theron - two outstanding actresses who will soon portray the world's first post-operative trans lesbian couple!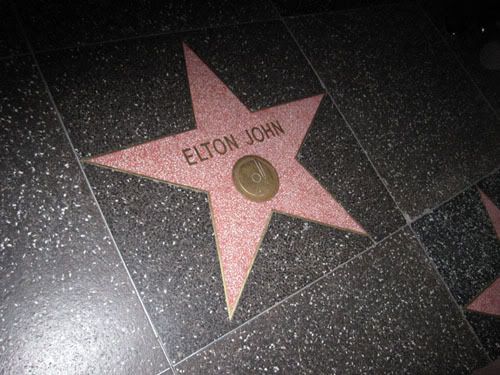 Sir Elton John. Can't go wrong with him either.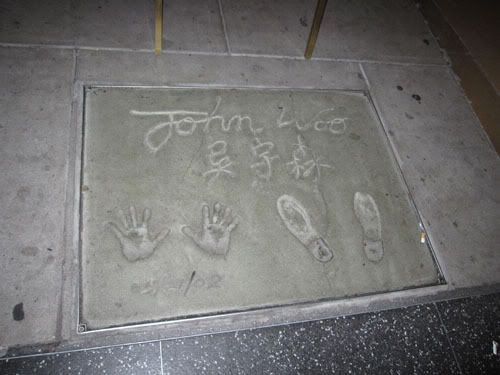 Here's someone whose handprints I had seen in Hong Kong - John Woo. Now, I am in front of Grauman's Chinese Theatre, where all the handprints are, some dating as far back as the 1920s.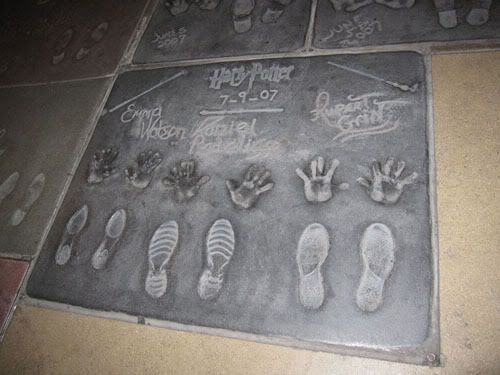 The cast of Harry Potter.
Unlike the vast majority of transwomen, I am NOT a Trekkie. But I had to take this photo of the Star Trek cast handprints anyway, if only for George Takei, who got married last year during the short timeframe that gay marriage was legal in California.
Proposition 8 was a mistake, and more importantly, a grossly barbarian attempt by foreign forces (Catholic and Mormon Churches, the Vatican, the South Korean government, and various immigrant communities) to impose their primitive moral values on California. I'll support any and all efforts to overthrow it. I will soon order a bumper sticker to that effect, and put it on Gwaneum One. Putting that sticker on a Hyundai will further clarify that I carry the spirits of the fair-minded everyday South Koreans, rather than the bigotry of the Korean-Americans and the South Korean government that they helped install.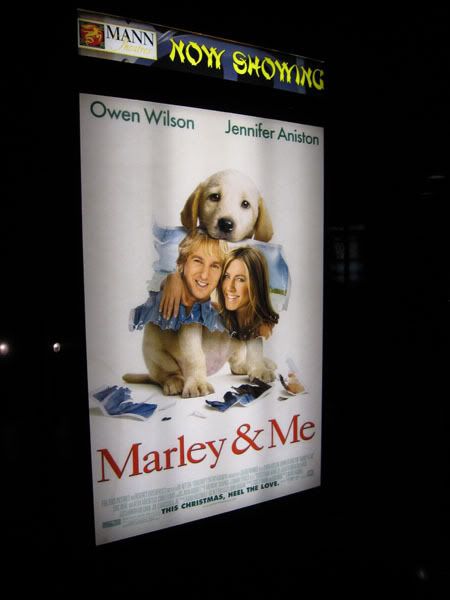 I need to watch this movie. Marley and Me - starring none other than my idol Jennifer Aniston.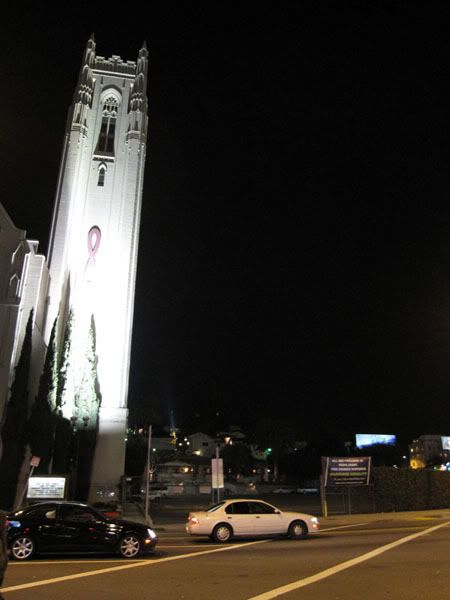 The Hollywood United Methodist Church. This church is also committed to restoring marriage equality in California.
My feet hurt, as I was wearing heels (I had not counted on walking around Hollywood). Yes, I was again going for that sleek cardigan-tights "no pants" look. But I am glad to have gotten out and about one last time. Will continue to look for photo ops, however!