A bit overdue - photos from my final Toronto day. I will certainly miss Canada's largest city - though if I were to move to Canada, I'd still pick Vancouver as my hometown.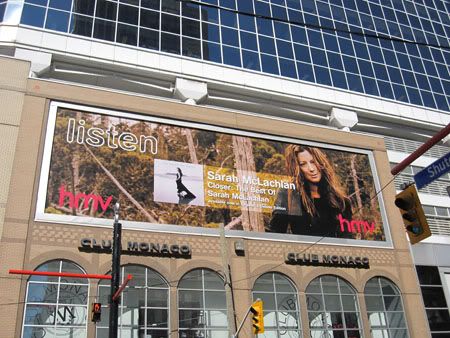 Starting out at Eaton Centre again. I took another photo of the billboards, this time concentrating on Sarah McLachlan. That is the best photo of her I've seen in a long time, if ever. Thanks to the likes of McLachlan, Canadian musicians - and women rockers around the world - have a level ground to compete on.
There is a somewhat pricey diner below this sign - selling eggs-oriented breakfast, lunch, and dinner. It appeared to be part of a national chain as well. I ended up having a late breakfast there.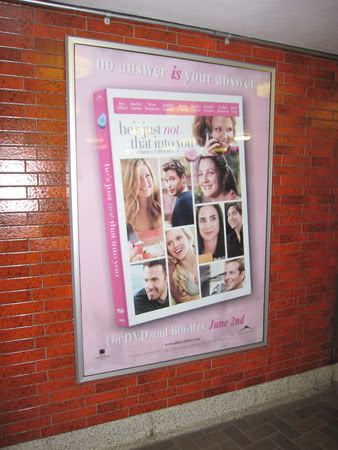 I am in the subway, in order to reach Casa Loma. And I see that on June 2nd, I will be able to buy a DVD of
He's Just Not That Into You
, with an all-star cast including my favorite Greek Goddess, Jennifer Aniston.
I have reached Casa Loma, the largest residence in Canada. It was the residence of Sir Henry Pallatt, who made a fortune developing hydroelectric power on the Niagara River, and was influential in the economic development of the Toronto area and early Canada as a whole. While such mansions are common in the US, where showing off one's wealth is considered the reward of one's hard work, Casa Loma is one of a kind in Canada. Casa Loma feels a lot like California's Hearst Castle in many ways.
Pallatt lived here until 1924, when business overexpansion drove him into debt, and the loss of his hydroelectric power monopoly forced him to liquidate everything he owned. The Kiwanis Club has maintained the mansion as a tourist attraction since 1937, slowly but steadily restoring many of the sections.
This photo shows the indoor conservatory. Pallatt and his wife were renowned horticulturists, I was told.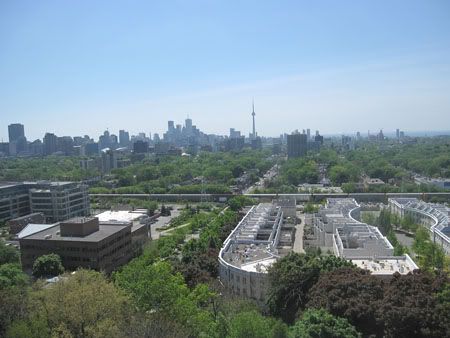 Climbing up the narrow spiral staircase, I have reached the highest level in the mansion tower, with this great look at the city skyline. A lot of bricks were covered with tourist graffiti - some in Asian scripts!
Those row houses in front, which I had passed to get here, felt very British in character. One of these days, I need to get back to England, and really expand my reach well beyond London. Maybe beyond England and into other parts of the UK.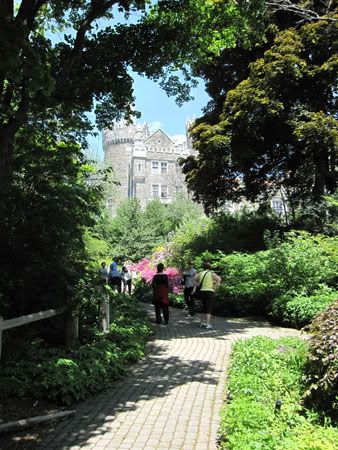 The outdoors garden, open from May to October, is also a gem.
It's starting to get a bit warm again, even though forecasts called for the day's high temperature to be just 19 degrees Celsius. I am again wearing my trusty tights and boots, topping them off with a dress-shaped floral tunic featuring poet's 3/4 sleeves (a very popular look during my teeny bopper years) and a black trench coat. My makeup is also a bit heavier than usual, especially with the eye pencil, and I am feeling a teeny bopper spirit inside my 33-year-old body.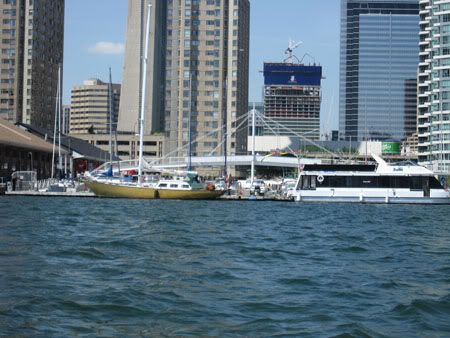 I proceeded to the harbour, where my real age started to catch up with me. My left foot was starting to hurt, as if I had fractured a bone! Walking became very challenging.
I decided to do a touristy harbour boat tour, shellling out $27. That got me an hour in a boat with a guide to explain the various sights, with an option to get off at Toronto Islands and explore.
Here is an interesting sight. This bridge came from an Amsterdam canal, as a gift of the Dutch Royal Family who had been based in Toronto during World War II. The last thing I need right now is a reminder of my past travel hellhole with way too many parallels to the California ethnic theocracy.
Other waterfront sights include former industrial warehouses turned into art galleries, as well as Rogers Centre, the home of Toronto Blue Jays and formerly known as the Skydome. Rogers is one of the three major players of Canada's cell phone industry (Bell Canada and Telus are the other two), and all AT&T phones - including my iPhone - use Rogers when roaming in Canada.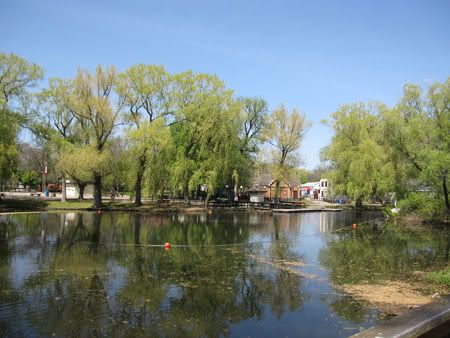 I landed at Centre Island, one of over a dozen islands that make up the Toronto Islands, separating the harbour from Lake Ontario.
The Islands have many features. Some natural sections doubled as the Florida Everglades in a movie - in fact, the CN Tower made a 3-second appearance in Florida in that movie, I was told. There are recreational facilities, including a small amusement park seen above, open daily June-August and weekends May and September. There is even a clothing optional beach on the west side - one of two in Canada - but due to jurisdictional differences, it's legal to be naked on land but illegal to be naked in the water (fine is $65). As the Islands are quite chilly compared to inland, I wouldn't dare get naked here...
The Islands even host an airport, Toronto Island Airport, which hosts Porter Airlines, offering frequent propeller aircraft service to Chicago, New York, and other major cities.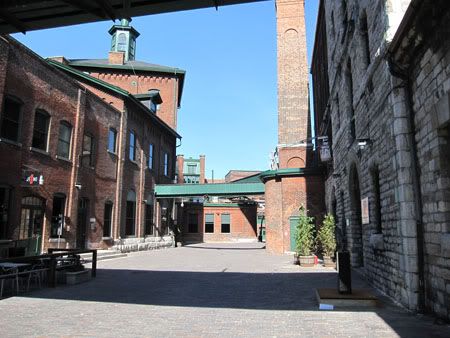 Due to the foot pain, I decided to return to my hotel for a quick break. Then I added even more eyeliner, changed into that white Aritzia long shirt, topped off with a long suit jacket, and headed back out. Aside from my lack of pants, I could've passed for a Toronto commuter. (Though I was really feeling even more like a teeny bopper this day.)
My first destination: the Distillery, a gentrification of a distillery and several other industrial buildings just east of downtown on the waterfront. The gentrification is still ongoing, so not many things to see/do right now. Love the "abandoned factory" ambience, however.
I then headed west on King West, taking a northbound bus (#63) on Shaw so that I could head back east on Queen West. West of Bathurst, Queen West maintains its original rough-and-tumble independent funky vibe, while between Bathurst and Yonge, it feels more corporate and trendy. Again, due to my foot pain, I didn't do much walking. I finished off with a Thai fast food dinner at Eaton Centre, as well as shopping; while I wanted to buy dressy boots as an alternative to my flat suede casual boots (that'd give my "pantsless suit" ensemble a bit more polish), I had no luck, and instead ended up with a Gap black mini, which I kind of needed to replace my worn-out black microminis. Due to Gap's generous sizing, I found that a Size 6 was a good fit.
My journey back to California started after only an hour or two of sleep. I declared only USD $120 worth of purchases to the US customs, who have presence at all major Canadian airports (including Toronto Pearson). The US immigration officer grilled me with a dozen detailed questions, but the questioning was smooth and I cleared US entry formalities without fuss.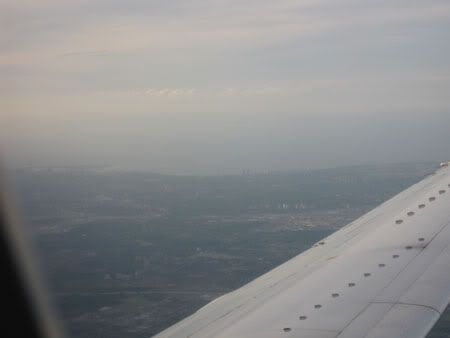 It's now about 7 in the morning. I am on a very old United plane as it leaves Toronto. The left of the shoreline shows the Toronto Harbour as well as faint outlines of the CN Tower and a few other skyscrapers.
This was a very miserable flight due to a very cut-rate purser who had a knack for insulting the passengers' intelligence. If this were my first flight on United Airlines, it would've certainly been my last as well. I usually have far better luck with United's flight crew, both pilots and flight attendants, however.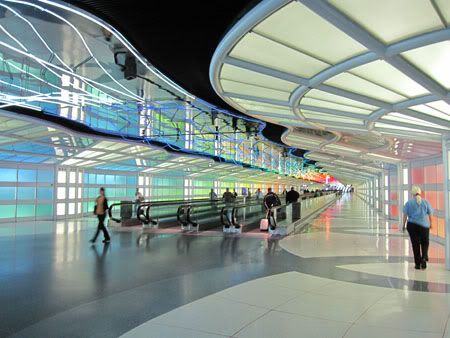 As I had cleared US immigration and customs in Toronto, I was a domestic passenger upon landing at O'Hare Airport in Chicago. This is the underground corridor that links the two main United terminals at O'Hare. Of course, O'Hare is United's home airport, and American also maintains a large presence.
Continuation to Los Angeles was on a newly renovated Boeing 767 aircraft, featuring United's new flat-bed business class and revamped first class. The economy section had seen next to no improvements, however, and I was very unhappy about that. While flying on an airplane in general, and on a United flight in particular, is normally a joyous occasion for me, and usually ends up taking me to a better place than where I leave from, today was certainly NOT one of those days, especially considering that California was reaffirming the ethnic theocrats' greatest contribution to the state politics, the constitutional ban on gay marriage (Proposition 8), as my half-renovated 767 was descending over San Bernardino.
I already miss Canada - especially its constructive approach to immigration (rather that the destructive US approach). I will make sure to visit more often.