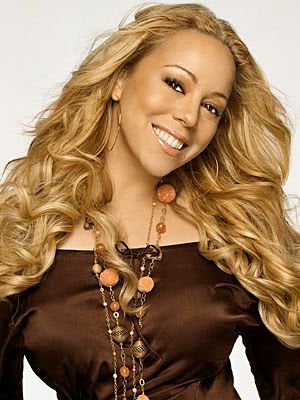 Yes, again, just five months after my last time seeing her, and for the sixth time overall! I have to pause my European travelogue (which I haven't been diligent with anyway) for this. At least it's appropriate given that Mariah Carey is very well weaved into my travel memories.
After that mini-residency in Las Vegas in September and October 2009, as well as a visit of Asia and Europe for the promotion of her newest album
Memoirs of an Imperfect Angel
, Mariah Carey launched a new tour in North America, entitled
The Angels Advocate Tour
, starting off at New York's Madison Square Garden on New Year's Eve. And her Los Angeles stops are last night and tonight, at Gibson Amphitheatre at Universal Studios Hollywood.
When it came to Mariah Carey, I had some oddities with her; despite all my previous experiences with her, none of them were in Los Angeles, and I had not bought any tour merchandise from her either. But as of last night, both of that have changed, and I am glad to say so. The merchandise tally consists of a $5 keyring, a $20 tote bag, and a $20 coffee mug.
The concert, like the 2006
The Adventures of Mimi Tour
and the 2009 Vegas residency, was built around her newer numbers, including the big hits found on her three most recent albums, such as "We Belong Together" and "Don't Forget About Us." The show was clearly targeted at the younger fans, no doubt about that; the crowd was racially well mixed but mostly twentysomethings, leaving me feeling a bit geriatric. But unlike the 2009 Vegas residency, which felt quite rough at the edges and left me less than happy, this time around it felt quite polished, very entertaining, and very satisfying.
I was a bit disappointed that Mariah chose to resort to lip-synching for a few songs with more complex arrangements, such as "Angels Cry." I do know that she needed to save her voice given her hard tour schedule, but still, when I listen to a first-rate vocalist in a first-rate concert venue, lip-synching is not what I look forward to. Fortunately, her live vocals in all other numbers were superb enough to allow me to forgive that shortcoming.
Back to the numbers, they seemed pretty well chosen, and while I didn't get the power ballads I prefer, the upbeat R&B-inspired numbers were more than entertaining enough for a good evening. Singing along to "Shake It Off" or "Touch My Body" is never a bad thing in my books. She at least did save the best for last; the encore number was the one key power ballad, "Hero," which made sure to send me off in tears again - for the fifth time!
I had a very good impression of the performance last night. And reviews seem to confirm this. Professional reviewers in Vegas, and in the early shows of this tour, weren't too thrilled, but the two shows prior to last night - Houston and Phoenix - had glowing reviews.
Looking forward to even more Mariah Carey concerts in the future. She's now a 20-year veteran of the showbiz, so she has a lot of material to draw from for her shows; that's always a plus.
And I'm barely getting started. This weekend will have me enjoy Bon Jovi for the first time, while my second U2 concert looms on the horizon in June. I would also love to continue enjoying other great acts new to me, while continuing to revisit some of my proven favorites such as Sarah McLachlan.