The rest of my Munich experience on 25 October 2009, after wrapping up the Residenz tour... The Residenz was much bigger than I had expected, and due to the Quiet Day Sunday rendering even convenience stores closed, I was growing hungry.
My first goal after the Residenz was to walk over to the three Pinakotheks ("picture galleries") - Alte Pinakothek (pre-1800), Neue Pinakothek (19th Century), and Pinakothek der Moderne (20th Century) - for some art. Sunday admissions was supposed to be only a single Euro anyway, so time to take in some art.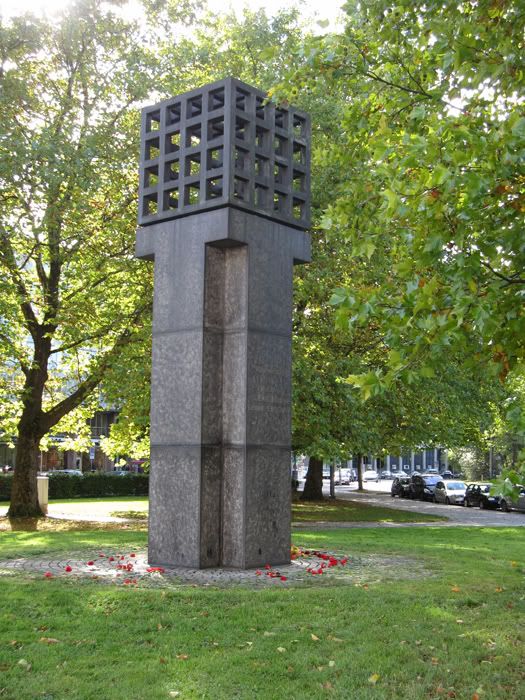 On my way, I came across this plaza with this eternal flame. A nearby sign read Platz der Opfer des Nationalsozialismus, or Place for the Victims of National Socialism. It bore remembering that Bavaria's conservatism played a key part in the formation of the Nazi ideology. Adolf Hitler, though Austrian by birth, started his movement right here in Bavaria, and while the Nazis were fringe extremists at first, Hitler's masterful manipulation of public opinion won him ever more support, until he was the Führer once and for all, and destroyed millions and millions of lives.
While Bavaria remains very conservative, Munich is the liberal hotspot of the region, and I am treasuring its vibrancy. If Bavaria is indeed Texas, then Munich is its Austin. And for that matter, if Bavaria is California (since California is very conservative as well), then Munich is its San Francisco.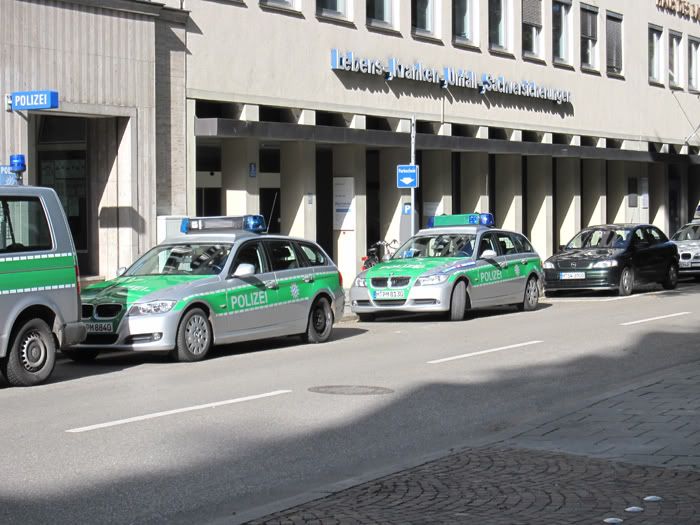 More reminder that I am in Bavaria. Even the police cruisers are made by Bayerische Motorenwerke, better known by its English name Bavarian Motor Works, and shortened to BMW. And sure enough, Munich is BMW's home city.
The BMW emblem, called the Roundel, depicts a spinning aircraft propeller, since BMW's first product line was aircraft engines. And its colors are blue and white - the colors of Bavaria. In fact, the letters BMW officially also stand for Blau mit Weiß, or Blue and White. Driving a BMW is, when it comes down to it, all about the Bavarian pride.
I am once again reminded that for several years, I had dreamed of coming to Munich, to take delivery of a BMW of my own. My original goal, in fact, was to simply terminate the lease on my 2004 325i (fourth generation, codename E46) in early 2007, order a fifth-generation 3-series (E90/91, like the ones above) as a replacement, and come to Munich for the pickup. But eventually, I ended up purchasing the 2004 outright - and selling it in anger over BMW's continued support of far-right causes, including the Pope and Fox News Channel.
And yes, Pope Benedict XVI, a noted homophobic a-hole, is Bavarian, and thanks to BMW's generous corporate sponsorship, hasn't bought a car in decades.
I am glad to finally be in Munich, as a stopover on my way to Stuttgart to pick up a Mercedes-Benz instead. And to keep the Mercedes-Benz theme, I am skipping the BMW Welt next to Olympic Park in the northern reaches of the city. BMW Welt has a museum consisting of vintage BMWs, but very few vintage BMWs are of any interest to me anyway.
Shortly thereafter, I arrived at the Pinakotheks. My intention was to only see the Alte Pinakothek, since it was mid-afternoon already and I wanted to save the greatest artwork for Paris and its Louvre. But with the admission jacked up to €7 for a temporary exhibition I couldn't opt out of, I decided to skip all Pinakotheks. Instead, I decided to hop on the U-Bahn for a quick hop over to Deutsches Museum, Germany's answer to the Smithsonian science museums in Washington, DC and one of the finest science museums in the world.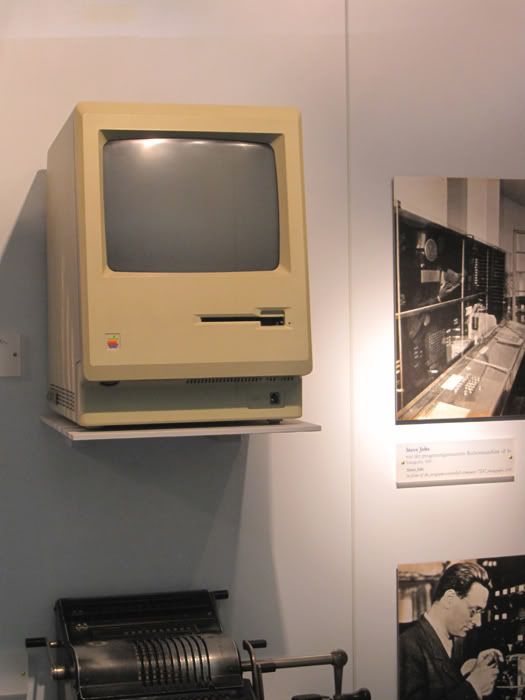 Here is a display I liked - the original Apple Macintosh.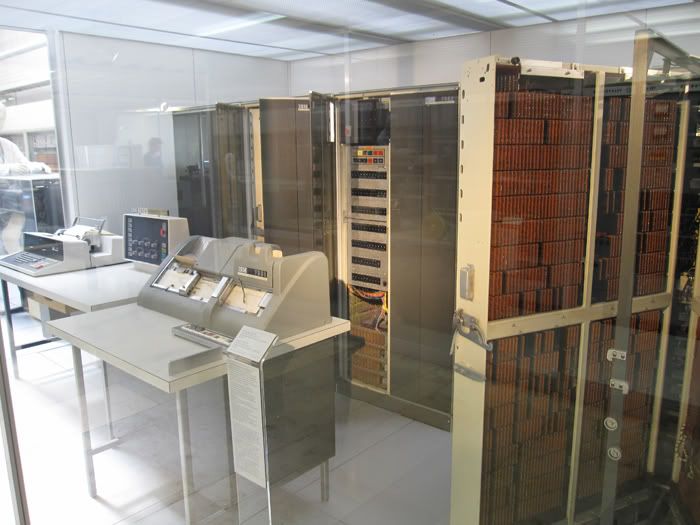 The Deutsches Museum is extremely hardcore. When it comes to computers, I don't just see a Mac - I see a zillion other computers throughout history, all the way back to rudimentary adding machines of the 19th Century. This particular example is an IBM 7074, built in 1962, and used by Allianz. It was state-of-the-art for its day, using punchcards for data input and using something more reliable than vacuum tubes for memory. Even then, its storage capacity was well under a megabyte.
The museum is so hardcore, and covers so many subjects, that trying to cram it into an afternoon, as I tried, is utterly hopeless. I can go from the watermills that powered the Industrial Revolution to a whole catalog of Pratt & Whitney jet engines, and a lot more, even including agricultural technologies. For an engineering enthusiast, this place is pure fantasy.
The museum also runs separate facilities elsewhere in the Munich area to house its land vehicles and aircraft. They will have to wait for a future visit.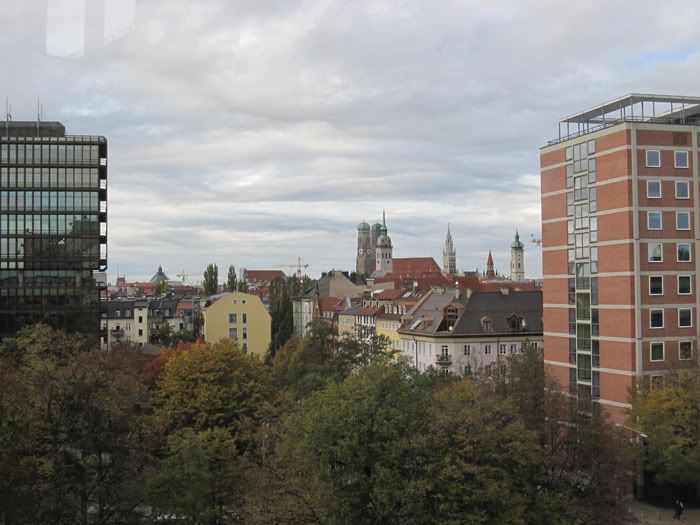 But when it comes down to it, Munich's Old World charms are far important than all the technology and the sights. And I am getting yet another glimpse of the city skyline from one of the Deutsches Museum staircases. I can see the spires of the Frauenkirche and the Neue Rathaus, among other buildings. This is a skyline that I don't get tired of easily.
I had to wind the day down at this point, given the realities of Quiet Day Sunday and also my mother's foot pains. The jet lag was also bugging me, and a bottle of water that I had bought in the U-Bahn turned out to be carbonated water, and not so great tasting. I had to retire, collapse on my hotel bed, and try to figure out a way to overcome the jet lag.
Next up: Monday, October 26th, involving some final moments in Munich before the train run to Stuttgart.