At last I am starting to write my European travelogue, almost 3 months after the fact.
I loved this trip - it finally allowed me to become intimate with Europe, something that had never happened since the disaster that was my 1999 Amsterdam trip. The first day was spent trying to adjust to the time difference, as I toured Munich, the crown jewel of Bavaria, and a place I had wanted to visit for years.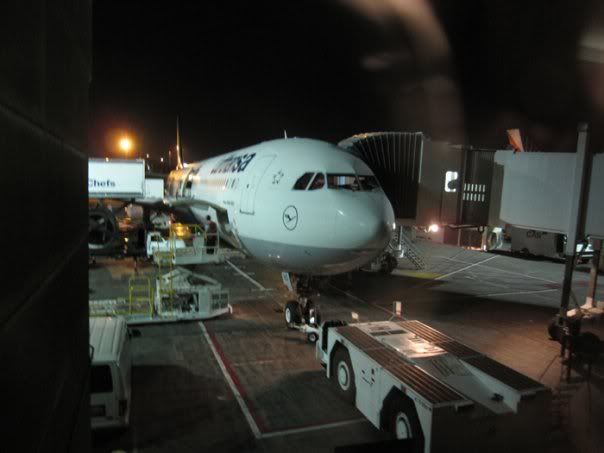 It's the evening of Friday, October 23rd.
This is my ride to Europe - an Airbus A340-600 flying for Lufthansa. Flight 453 will take me straight into Munich using a great circle route, once it climbs over the Disneyland fireworks and the lights of Las Vegas. This was my first-ever flight on Lufthansa, and I was very pleased with the professionalism. Lufthansa's corporate slogan is "There is no better way to fly" - and I can attest to its veracity. And with all the frequent flier miles racked up, I qualify as a United elite customer again into 2010 - and my 2009 elite status also allowed me to get a 25% mileage bonus on this flight too.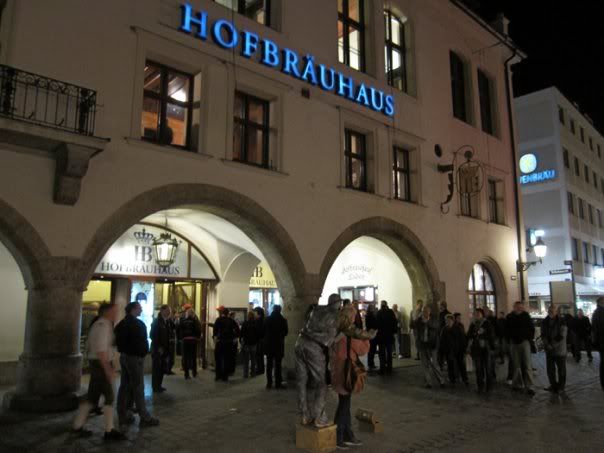 By the time I landed in Munich and got into town, it was early evening of Saturday the 24th. I was jetlagged but didn't want to hit the sack right away - so I had to do some night sightseeing. And what better place to do it than the Hofbräuhaus, Munich's famous brewery and greatest tourist trap?
This place was packed with foreign tourists - so much so that I didn't bother buying any beer or sausage. But it was great to see lederhosen-clad men walking around, and get my first taste of the blue-and-white Bavarian color scheme that would become so familiar over the next several days. As for the Bavarian beer (brewed under the German Purity Law), I would have to wait until hitting the US branch of Hofbräuhaus in Las Vegas two months later.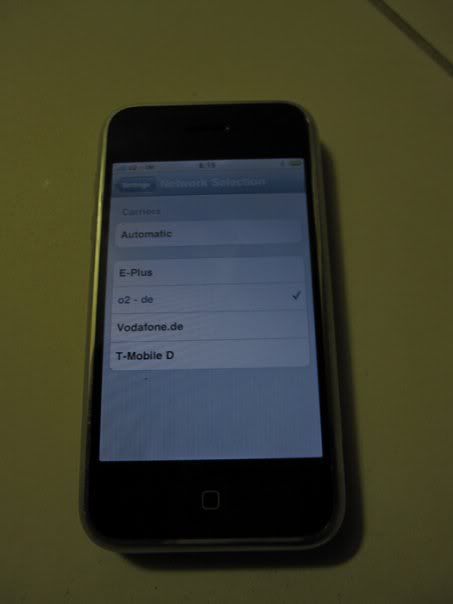 No luck adjusting to the new time zone, especially since Daylight Saving Time ended overnight. On a sleepless morning I checked my iPhone to see if it would work - and sure enough, it does. I had had no luck getting my original tri-band iPhone to work in Asia, as both South Korea and Hong Kong turned out to be quad-band, but tri-band is adequate in Europe, so I'm roaming with ease.
An iPhone in its home country is locked to a single carrier - that means AT&T for this phone. But since I am overseas, the iPhone becomes unlocked, and can choose a carrier automatically, or I can manually choose a carrier from whatever's available. In Munich, I am picking up signals from four providers: E-Plus, O2 Germany, Vodafone Germany, and T-Mobile. As it would turn out, some carriers had better coverage than others - a few days later, I found myself under Mad King Ludwig's fantasy castles, and O2 was the only carrier with any signal there.
Whenever I entered a new country, or changed providers, I got a free text message from AT&T alerting me to roaming rates applicable to my account and location. Since I didn't purchase any roaming plans, my rate was the default one at $1.29/minute for voice, and $19.97/megabyte for data (ouch!). I ended up using only five minutes of voice airtime in Europe. And rental phones would not have saved me much either, since their best rates are usually only in one country (usually the UK) and the rental itself costs money.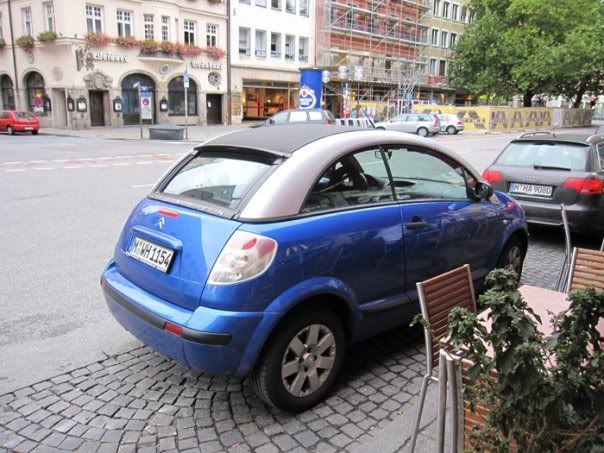 Now I am sightseeing. It's Sunday the 25th - and since Sundays are Quiet Days in Germany, I can forget about shopping. Even if it means shopping for a bottle of water - UGH! (Yes, even convenience stores must close on Sundays, unless they're near enough the main train station to "cater to travelers" rather than locals.)
Since this trip is about picking up a Mercedes-Benz, I'm making many automotive observations. Here is the first of many - a Citroën whose model series I cannot readily identify. The canvas sunroof definitely heralds back to the venerable 2CV, however. I love French cars' sleek designs - and especially when it comes to Citroën, I have a weak heart, given that a Citroën (though it was a Xantia designed in Italy) was the first car I ever drove outside North America. I'm not too keen on the 2CV or this modern reincarnation, but would love to have a DS if I can ever start my own antique car collection.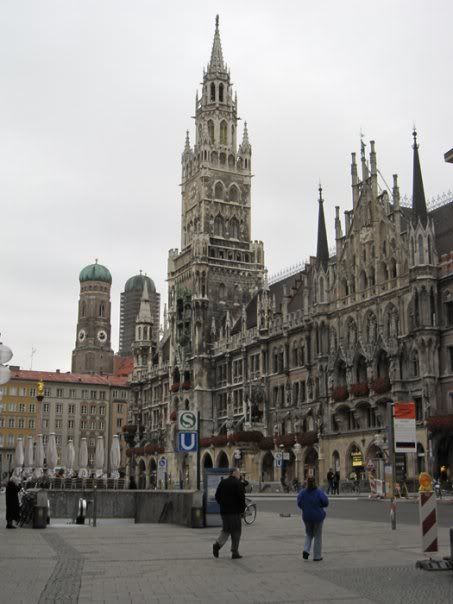 I am back at Marienplatz, looking at some Munich landmarks. I had been planning a Munich trip for years (the original intention was to pick up a BMW via European Delivery, it's ironic that I am finding myself in Munich now as an intermediate stop on my way to Stuttgart for a Mercedes-Benz), so I'm finally glad to see those landmarks.
The front is Neue Rathaus (New Town Hall) - built by Mad King Ludwig in the 19th Century in Dutch architecture, clashing with the more Bavarian architecture of the surrounding buildings. Though despite all the traditional architecture of the buildings, they were most likely rebuilt after World War II, since the Allies had heavily bombed this Nazi stronghold. The Neue Rathaus is home to the Glockenspiel, the famous mechanical clock/figurines set that comes into action a few times a day.
The onion twin domes to the rear belong to Frauenkirche (Church of Our Lady), the seat of the strong Catholic power in Bavaria. No buildings in Munich may be taller than the twin domes.
The foreground has newer additions - subway entrances built for the 1972 Summer Olympics. The green S refers to the S-Bahn, a suburban commuter rail system run by Deutsche Bahn (national rail) using conventional rail tracks. The blue U refers to the U-Bahn, the city-run subway system that uses dedicated tracks. Major German cities use a mix of S-Bahn and U-Bahn to get their commuters around. The two systems have integrated zone-based ticketing, and works on the honor system with no turnstiles and only occasional ticket checks by the transit police. A foreigner using a rail pass that covers Germany can ride the S-Bahn for free, since it is part of the national rail, but must still pay for the U-Bahn.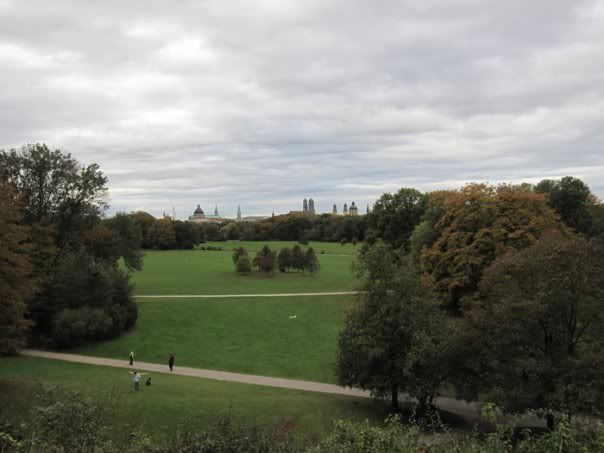 The Englischer Garten (English Garden) stretches from the old city core almost all the way out to the airport, along the Isar River. It was the creation of an American gardener, who had been loyal to the British cause during the Revolutionary War. Upon the American independence, he fled to Britain, before coming to Germany to work on this urban park in English style.
From this vantage point (atop a mound at a mausoleum) I can make out the old city core's spires quite well. Below the mound, a father and his son fly a remote-controlled airplane. There also are joggers and walkers out and about. Munich is considered the most livable city in Germany, and I think the English Garden plays a large part in that reputation.
But as this is a cool autumn day, rather than a hot summer one, I am spared from the sight of nude sunbathers that also make the English Garden famous.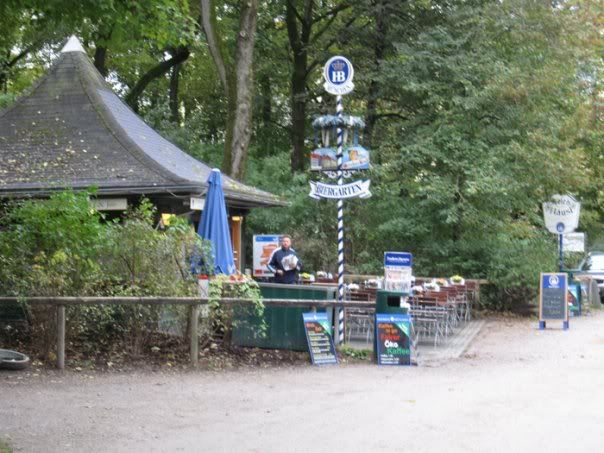 Here is a Biergarten (beer garden), one of many that dot English Garden. In Bavaria, on a warm sunny day, a standard routine is to buy some food (pretzels or sausage) at a traditional market before coming here, add beer here, and picnic. The HB logo indicates that this beer garden is run by the very brewery that runs Hofbräuhaus.

Here is a look at that blue-white Bavarian color scheme, of course.

I am already noting that the Free State of Bavaria really takes its identity seriously. There are sixteen states in Germany, and in addition to Bavaria, two other states are Free States. However, normally, a Free State is little more than a nomenclature quirk, just like the Commonwealths of Massachusetts and Virginia or the California Republic in the US. But when it comes to Bavaria, the Free State identity is taken seriously. Bavaria was one of the last regions to join Germany, and many Bavarians still speak of their state as if it were a sovereign country. Bavarians are Bavarian first, and German only as an afterthought.

Some people refer to Bavaria as the "Texas of Germany" - and that's an apt comparison, since Texas is also a whole other country. The religious conservatism is another parallel between Bavaria and Texas; Bavaria is the Catholic outpost of northern Europe, so much so that Pope Benedict XVI hails from Bavaria. The religious influence is so strong that Bavarians often use the greeting "Grüß Gott" (God's Greetings) rather than "Guten Tag" standard elsewhere in Germany. I stuck to the informal "Hallo" instead.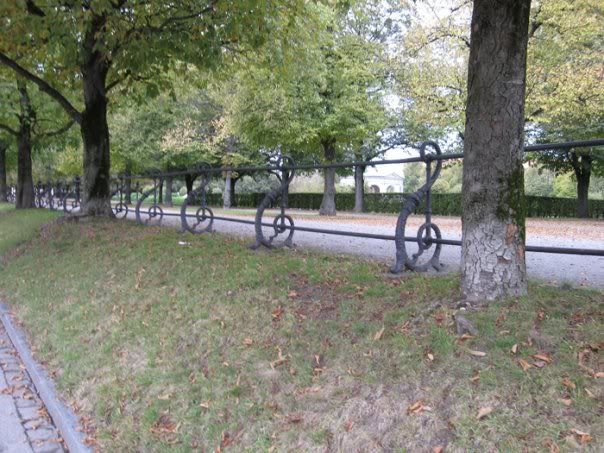 I am going through Hofgarten, the royal garden that borders English Garden and the Residenz. I had to take this photo for the unusual fence post design - resembling the treble clef on music notation.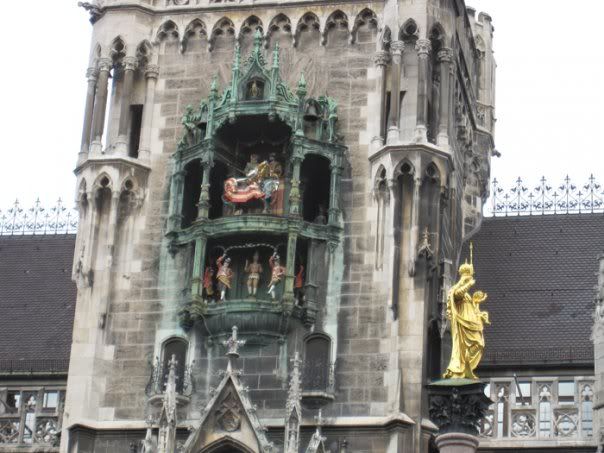 It's 11 in the morning. I have returned to Marienplatz to take a look at the Glockenspiel in action. The Glockenspiel has two levels of mechanical movements - a joust match on top, a celebratory dance on bottom. The blue Bavarian knight has just knocked over the red opponent on top. A giant music box plays a melody as the movement continues its routine.
Compared to modern-day electronic displays, this is primitive. But given that this is all old-fashioned mechanical clock movement, it's amazing.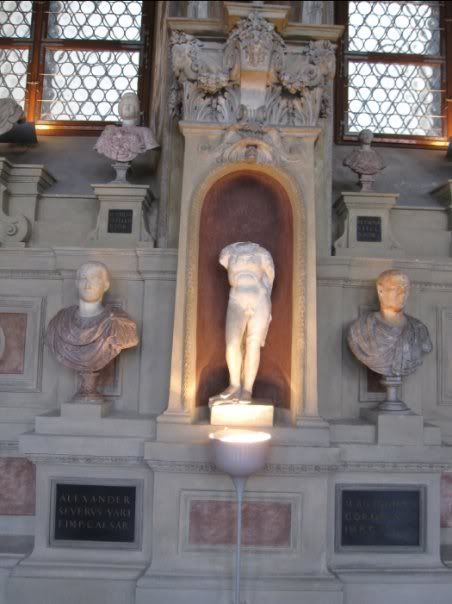 Now it's time to move on. I am now visiting the Residenz, the palace of the Wittelsbach family, the last rulers of independent Bavaria. The Wittelsbachs included King Ludwig II, better known as Mad King Ludwig, whose world-famous fantasy castles I am seeing later in the trip.

The Wittelsbachs, like other European royals, tried to legitimize themselves by claiming to be descendants of the Roman caesars and other great rulers of the past. This nude Roman emperor statue is here for that purpose.

2009 in the US was marked by the word "teabagging," which referred to the far-right protests against Obama's supposed increased taxation. The word came from the protesters claiming inspiration from the Boston Tea Party of 1775 that led to the American Revolution. But teabagging, originally, refers to certain activities done using a man's scrotum (could be sexual, could be hazing). Given that, I referred to every male nude I came across in Europe as a "teabagger," and chuckled.

This hardcore lesbian never had so much fun looking at male genitals. And Europe is so full of exposed male genitals. I would rather be carpet munching any day, however. Teabagging is evil.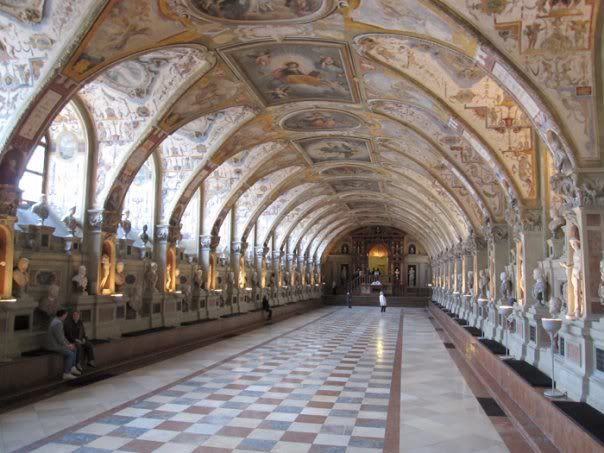 And this is the Antiquarium, the room full of the Roman teabaggers. With an imposing room like this, the Wittelsbach family could inspire awe from visitors, and draw at least grudging respect.
There are other propaganda rooms throughout the Residenz, including one that has all the Catholic relics, and one full of portraits (including that of Charlemagne, another supposed ancestor of the Wittelsbachs). But honestly I didn't like the Residenz - it did not have that "aged, authentic" flair, since most of it had been destroyed by Allied bombings, and rebuilt after the war using Nazi archive photographs.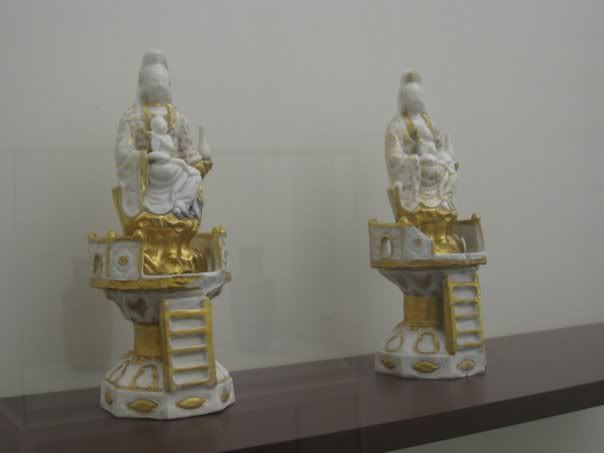 This sight is far more comforting than those teabaggers, for sure. Here are two examples of Kwan Yin, my transgender matron saint.

European aristocracy and royals had a penchant for Asian ceramic luxury goods, and the Dutch traders were very eager to cater to their needs. These Kwan Yins came from China by way of those Dutch traders.

Both Kwan Yin statues are seen holding a baby; Kwan Yin is a fertility symbol in China (too bad she never gives birth herself, as she is transgender). However, it is easy to note the strong parallels to a more familiar imagery here in Europe: Virgin Mary with Child. Given Bavaria's strong Catholic traditions, I am noting that even more.

Part 2 will be uploaded in a few days (I hope), with stuff from the rest of my Munich day, including the Deutsche Museum.