I recently took a day trip to Santa Barbara. With weekend work and all, taking a day trip is not all that easy for me these days, but between a new car and a new camera, I need to get out there a bit more.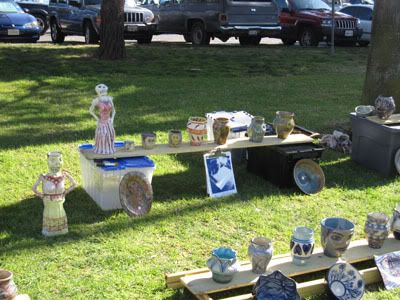 Some Dia de los Muertes art for sale. Lots of streetside art vendors on this day, especially along the grassy area near the city pier.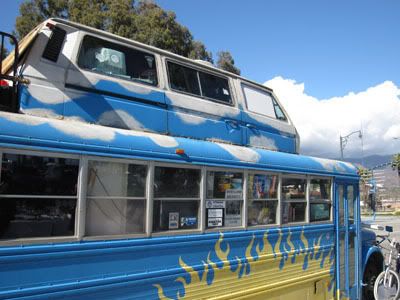 An old bus with plenty of Veterans for Obama and other progressive bumper stickers. The roof also has the body of a Volkswagen minivan.
Love this sight - after all, not all veterans/soldiers are "get-tough" right-wingers, and most realize that W delivered little in substance for them despite all his grandiose patriotic slogans. If anything, he got thousands of troops butchered in Iraq just so that he could settle a personal score and get his oil buddies rich. Obama needs to find a good way out of Iraq.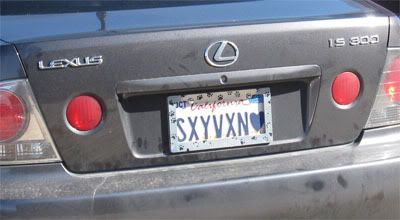 Nice vanity plate seen on a Lexus.
Yes, California vanity plates may have a heart, which counts as a space. Three other symbols - the hand, the plus sign, and the star - may also be used the same way.
While California does deserve its reputation as the vanity plate capital of America, in reality many Southern California vanity plates are Christian extremist in character, and get very tiresome after a while. Creative, vain vanity plates, like the one above, are more likely to be found from here in Santa Barbara and northward.
For that matter, Rick Albertson, an acquaintance of mine and a former Californian who now lives in Pennsylvania, told me that the saner "Alta California" ends at Santa Barbara, and all points south, or "Baja California," can go to hell. And based on Southern California's track record, from the 1978 tax revolt to the 2008 gay marriage ban, I must agree.
Santa Barbara certainly counts as Alta California, but there is quite a bit of Baja California mentality visible as well, as it's less than an hour from Simi Valley, where Ronald Reagan's library and grave are located (and the CA-118 freeway serving the area was named after him).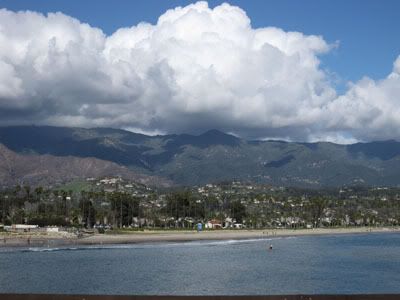 A look back at Santa Barbara and the scenic mountains above, as seen from the city pier.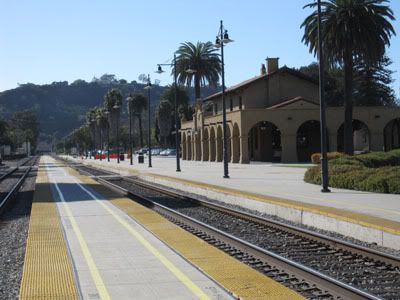 This fairly small, sleepy train station is Amtrak's Santa Barbara stop. Several Amtrak trains, from San Diego via Los Angeles, terminate here daily, though one continues on to San Luis Obispo. The daily Seattle-bound Coast Starlight also stops here.
If I limit my activities to just downtown Santa Barbara, it actually makes sense to leave my car at home and take the train here. An electric shuttle bus (fare: 25 cents) runs from the pier, which is near the station, to downtown, along State Street, the town's main drag.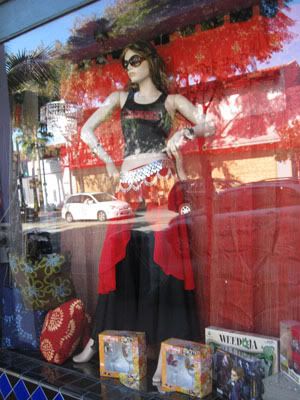 Seen at a boutique on State Street.
Love the tank top - it says "Fuck the candy, eat me for Valentine's Day."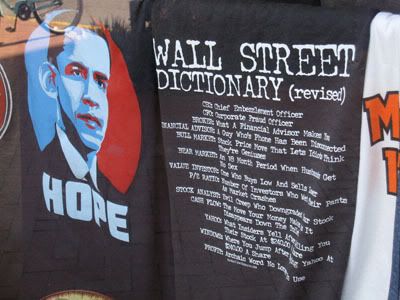 Another boutique display, showing more of Santa Barbara's progressive character. I can choose between an Obama T-shirt and a "Wall Street Dictionary" poking at the greed of the corporate management.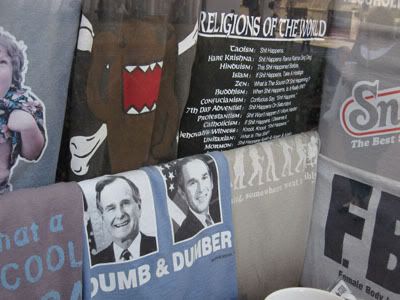 More T-shirts at the same boutique. "Dumb and Dumber" featuring Poppy Bush and W, and how to interpret "Shit Happens" in many different religions.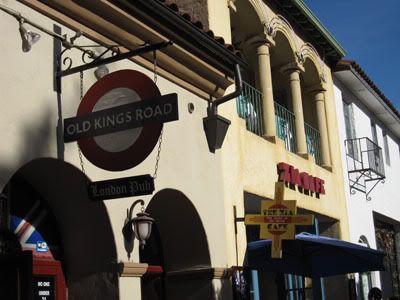 A London pub (complete with the Tube sign) and a New Mexico cafe, side by side.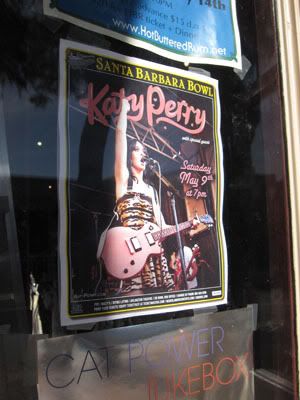 Don't remember which store I saw this at, but I spotted this Katy Perry concert poster. Katy Perry is a Santa Barbara native, raised in a strict Christian extremist household where she wasn't allowed to listen to secular music at all. Yet her music completely breaks that mold - and I certainly love her Sapphic anthem, "I Kissed a Girl," which I made sure to sample at record stores even during my South Korean trip (even as the nation's "government" was plotting to ban gay marriage back here).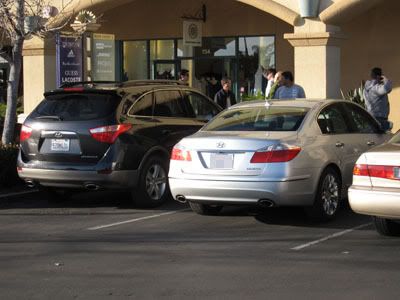 Wrapping up in Ventura County at an outlet mall. Here, Gwaneum One is taking a break, next to another luxury Hyundai - the Veracruz SUV. This "Hyundai family photo" theme will be something I'll look for often, and I'd love to park next to an '86 Excel (or an '84 Pony, if I can take a road trip to Canada).
This will also be my final pre-customization photo, as I am adding a few customizations after all. A few days after this photo, I replaced the silver wheel caps with the black ones featuring the Korean market winged "Genesis" logo, and the black makes the wheels look sharper. I'm also expecting the "BH380" trim level badge anytime now. The "H" logo on the trunk will stay, however. And most importantly, California DMV has just informed me that my vanity plates are ready for pickup. The plates will allude to Kwan Yin, to counter all the Christian extremist vanity plates around me.
Gwaneum One has performed very well, but on the US-101 near this outlet mall, the expansion joints made her jolt quite a bit. It's a known issue with the US-market Genesis, as its differently tuned suspension system tends to upset the car on certain expansion joints due to vibration frequency resonances. Some other owners said that they felt like they were losing control of the car; I felt in control at all times, but I did feel that the ride quality was quite bad - even worse than the BMW that I just sold (though still not horrible). Hyundai does have solutions, which will make their way into next year's model, and even for Gwaneum One, retrofits may be available later (I hope that is the case). Aside from this, Gwaneum One remains silky smooth even on potholes.
Business should take me on an overnight trip to Monterey and San Jose next week, so I may have some more photo ops then. I will take Gwaneum One in for her first oil change before the trip.