I continued my tour of Toronto. Waking up late (primarily due to the subway not entering service until 9AM), I ended up spending most of my day at Ontario Science Centre, a fairly nice science museum.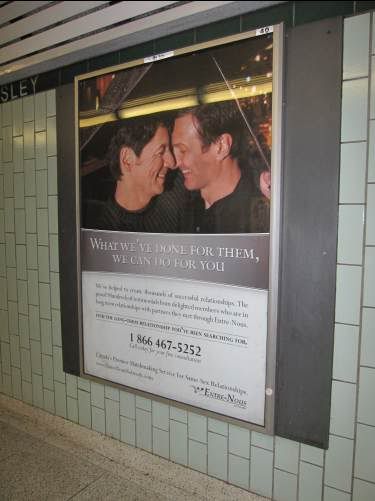 As Toronto is the first North American city to have legalized gay marriages, it's only fair that I start at Church-Wellesley, the heart of gay Toronto. I am at Wellesley Station on the Yonge subway line, where I am being greeted with this gay dating service poster. Entre-Nous features men on its subway ads; I want to see some women too.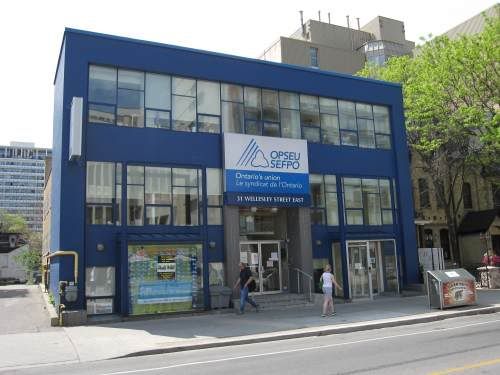 Heading east on Wellesley. Here is a union hall - belonging to Ontario Public Service Employees Union.
Canada's unionization rate is around 28%, which is lower than the European Union but still double the US rate. Unions are a well-accepted part of life in Canada, and union organizers are more concerned with community service and customer relations, and ensuring better working condition for the rank-and-file, than with outright politicking (typical of pro-union states in the US) or the very survival (typical of anti-union US states).
Back in the US, I understand that the Employee Free Choices Act is a major source of political contention - and a major agenda initiative of President Obama. I want to make clear that workers should be able to organize on their own initiative, and that sensible regulations need to be enacted to ensure that not only greedy employers, but also greedy union bosses, are kept in control.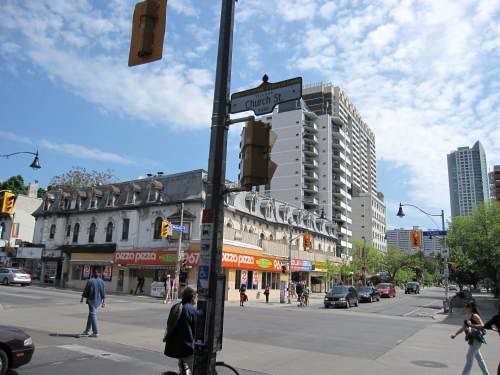 I am at the southwest corner of Church and Wellesley - Toronto's equivalent to, say, San Francisco's Market and Castro. Rainbow flags all around, and yes, the gayness is in the air.
As expected of gay neighborhoods, this area has upscale restaurants, bars, and other hangouts. Plenty of alternative newspapers being given out for free too, as well as posters. At one of the men's bars, there will be an underwear drag show tonight - I'm skipping it (I am finding drag to be too tedious anyway).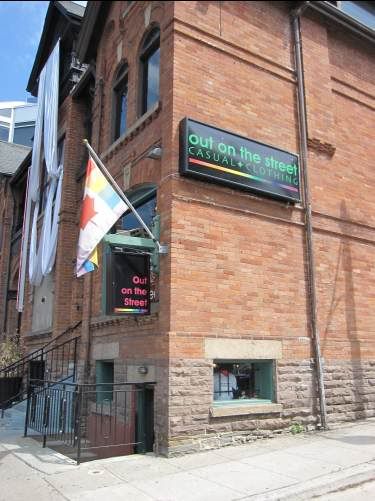 In the US, many gays fly their own version of the Stars and Stripes by keeping the canton but replacing the red-and-white stripes with the rainbow flag. And now I see that Canada also has its own gay version of the national flag as well - replacing the red bars on either side with the rainbow flag. I love it!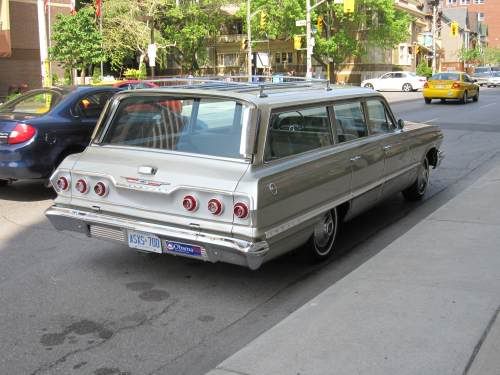 I wonder if this is an expat American, or a Canadian who really has a vested interest in US politics? Glad to see an Obama bumper sticker on this classic Chevy wagon with Ontario plates.
With a car this old, the speedometer will be in miles per hour regardless of whether the car was for US or Canadian duty (Canada didn't go metric until the 1970s). So that leaves me with one less way of figuring out whether this is a transplanted American or a Canadian.
Old cars in this mint of a condition are very rare in Toronto. Most cars rust away after so many brutal winters. It's hard to find cars over 15 years old. (So much for my dreams of finding an ancient Hyundai Pony to park next to my car and restore.)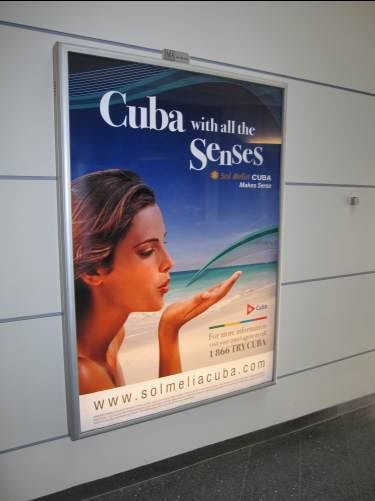 Time to continue. I am at the Yonge-Bloor subway station, looking at a resort ad. Nothing unusual about the Sol Melia name, well-known in Spanish-speaking nations - and outside; in fact, my final London visit had involved four nights at the White House, Sol Melia's premier London property. What is noteworthy is that there are several resorts to choose from, all in Cuba.
When I know I can buy Cuban vacation packages, I definitely know that I am NOT in the US, and therefore outside the sphere of influence of the McCarthyist mentality of Miami's Little Havana.
Again, the US must revisit its Cuban policy (I know that Obama is making minor steps toward this), to ensure the best results possible for the everyday people of Cuba, rather than fulfilling some gripes of the Cuban expats in Miami. Some tell me that the difference between Cubans and Cuban-Americans has strong parallels to the difference between South Koreans and Korean-Americans that I describe to them. Strategic engagement in Cuba will buy influence and improve lives of the ordinary Cubans.
I proceeded east to Greektown for a gyro lunch, which was wonderful - and ended up costing me only $10 after taxes. The restaurant was near Chester station, named Kalyvia, and the waiter, an older Greek native gentleman, was very friendly. He even called me "miss" - despite my age. In fact, people do call me "miss" a bit more often now than a few years ago, and I think maybe it could be the way I dress - less like Calista Flockhart and more like Lindsay Lohan. Yes, I was "pants free" today too - working a long T-shirt as a dress, and adding yesterday's American Apparel $9 belt for an empire waistline.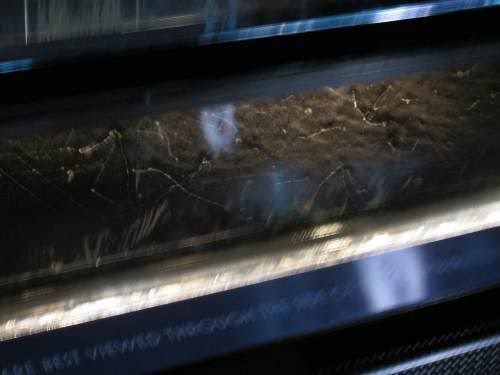 I then proceeded to Ontario Science Centre, by taking the No. 25 bus from Pape Station. Many subway stations outside downtown, including Pape, have bus boarding platforms inside paid areas, making life a bit easier. I also loved the views of the various creeks and ravines, densely forested, that interrupt the Toronto cityscape here and there.
Here is one of the more interesting exhibits at the museum. This exhibit is capturing and showing the cosmic rays that fly through the Earth. Cosmic rays can be a number of different things - alpha particles (naked helium nuclei), protons, etc. It's one thing to study them in college, another to see them for real.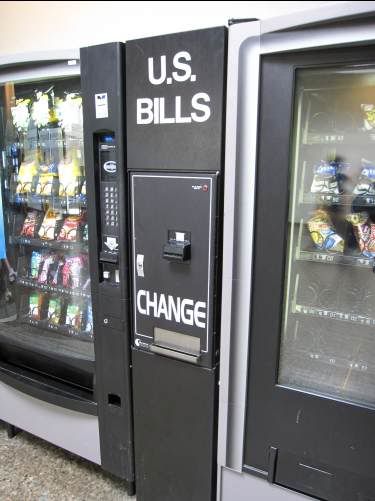 The museum has five levels, three of which are exhibits. The exhibit levels are located an escalator ride or two down from the admissions kiosk.
I am about to enter one of the exhibit areas, in front of a row of vending machines. While Canadian coins go up to $2 and the machines themselves can break up to $20, visiting Americans are not so lucky. To buy a $2.75 drink, they may need to pull out a few dollar bills. This machine, made in Indianapolis, exchanges US dollar bills into Canadian coins - though I presume the exchange rate is probably 1:1 or something almost as lousy.
I don't worry about this kind of stuff. I am carrying strictly Canadian currency only in my purse, and will not be touching US currency until it's time to fly home.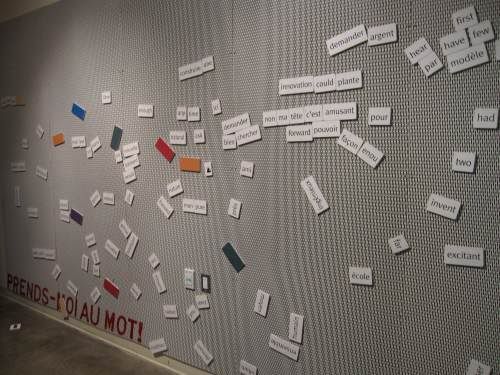 Here is an interactive area. This exhibit allows visitors to string together a series of words to make a sentence. But this being Canada, I need to choose whether I want to make an English sentence or a French one. And even though Toronto speaks English, most of the words available to me are French.
All exhibits are in both languages. It's actually pretty interesting to see how concepts like "black hole" are written in French.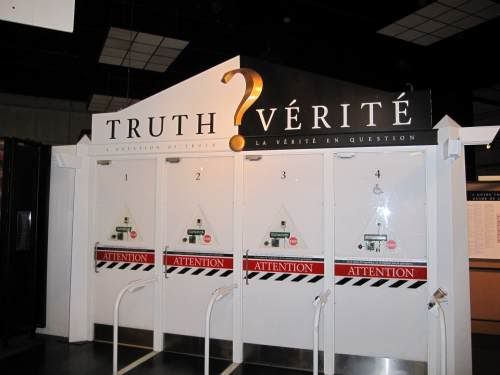 There are a number of special exhibitions. One highly touted one was about espionage, but I didn't find it too interesting. This one, titled
Truth
, is far more to my liking. It discusses how various cultures have been deemed "inferior" or "primitive," and how even science got a bias against the said cultures, because of the Eurocentric mindset that prevailed for several centuries. Sexism and racism are also well discussed.
After this exhibit, I had a chance to write my feelings to be shared with future visitors. I wrote the following note:
24 May 2009

Thank you for this food for thought.

It bears remembering that all humans are equally capable of good/intelligence/culture. However, different circumstances result in cultural differences that make people, well, different.

Wrong combinations of cultural elements, however, may end up being extremely toxic. While Christianity is taught as a religion of love/liberation, it often becomes tyranny when placed in communal nonwhite cultures (i.e. Latin America, Korea, Asian enclaves in USA). Europe leapfrogged ahead only due to its Renaissance/individualism which happened only due to prevailing circumstances.

I do appreciate Canada for recognizing the good that everyone can potentially offer. The USA, on the other hand, runs a partisan immigration policy that brings in only "desirable" demographics to pit against other demographics. California is paying a heavy price as a result.

The surest way to ensure enlightenment for all cultures is decent standard of living. Central America and former USSR suffer, while East Asia's formerly draconian societies are far more tolerant now, for this precise reason.

Thanks Ontario Science Centre - and thanks Canada!

Rachel K. So
Los Angeles, CA, USA / Seoul, Republic of Korea


Yes, I put down two hometowns, Seoul being the second (and the more enlightened) one. I even used the Republic of Korea moniker as a shout-out to the good people back in Seoul, even though I do not recognize the legitimacy of South Korea's current government.
And indeed, great leaps forward in culture and mentalities do happen when a society is affluent enough that people can afford to think and discuss philosophy rather than having to scramble just to survive - a point well demonstrated by none other than South Korea.
I continued my tour of Ontario Science Centre, going even through sections on basic scientific laws and human physiology. I loved the frank talk in the human physiology section about reproduction and birth control options - something that's increasingly harder to get in the US. Not as forward-thinking as the British (who discuss even transgender issues in ways children can swallow), but very impressive nevertheless. Of course, I took in a side view of the male and female reproductive systems as well.
I returned to downtown, getting off at Yonge-Dundas Plaza and heading west on Dundas. Passing the Art Gallery of Ontario, I ended up at Chinatown.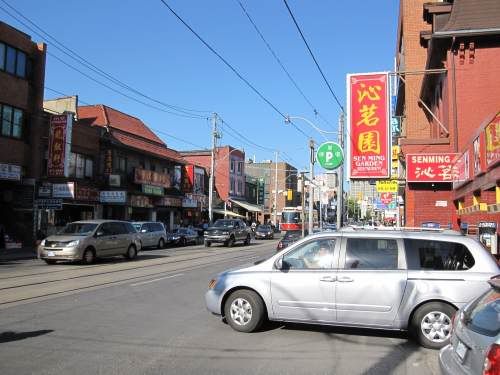 Toronto boasts 300,000 residents of Chinese ancestry, I am told. Needless to say, Chinatown is quite impressive, even though it's not as grand as the Chinatowns of San Francisco, New York, or Vancouver.
When even the municipal parking lot is labeled in Chinese, I know that I am in Chinatown.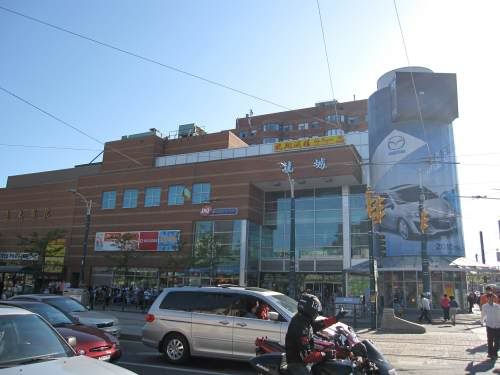 The anchor of Toronto's Chinatown is this shopping mall, named Dragon City. It stands on the southwest corner of Dundas and Spadina.
There was a karaoke room with a happy hour promotion ($10/hr per person until 8:45 PM) but I was too tired to go in. As for the rest of the mall, not as impressive as the grand Asian shopping centers I'm used to elsewhere.
I will NOT be mistaking this area for Hong Kong anytime soon. But again, this is an impressive enclave anyway.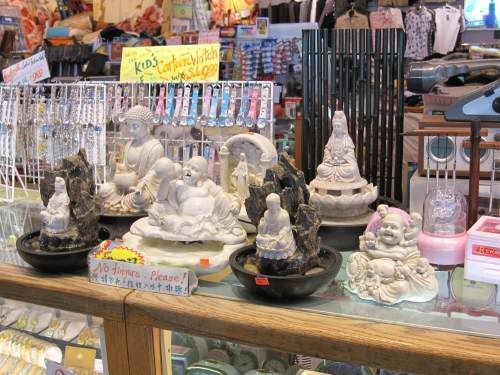 Seen at a store in Dragon City: some Buddhist statues for sale. Mostly Happy Buddhas but two examples of my transgender matron saint too. Can't go wrong with either.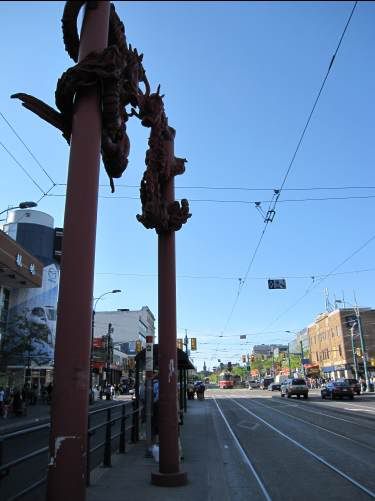 And what good is Chinatown without a gate? Toronto's Chinatown has two gates, both located on Spadina at the streetcar platform. One of them is here, the other is on the other track beyond the traffic signal.
I took the streetcar on Spadina down to Queen West, but as it was almost 6PM on Sunday, everything was closing up. I grabbed a quick pizza dinner for $5 at a Canadian pizza chain, then headed back to my hotel, feet hurting and all. The breeze was also causing my T-shirt to fly up quite a bit - I am pretty sure half of Toronto now knows what my lingerie preference is (it's pretty boring actually - utilitarian black panties, hiding under black tights).
Due to too much time spent at Ontario Science Centre, I didn't make it to Casa Loma. I am thinking that will be the first thing in the morning, as I kick off my final Toronto day. In addition, I need to also squeeze in a harbor cruise, a few extra museums, and maybe extra shopping. The thought of having to go back to California theocracy is NOT appetizing, but I must, and I need to take as much of the good spirits of Canada and the rest of the civilized world as I can.