I have yet to upload my DC photos, but now that I am in Toronto, I will go ahead and upload today's Toronto photos first.
I was supposed to fly United Airlines to Chicago yesterday, then change planes there to reach Toronto. But about four hours before departure, an automated call from United informed me that my Chicago flight was cancelled. United rebooked me automatically, but due to the long weekend, my next possible flight had to wait until this morning, reaching Toronto 16 1/2 hours behind schedule. I called the Premier dedicated hotline - and had myself rebooked on an Air Canada nonstop instead. It turned out be a great flight, and I arrived in Toronto 45 minutes earlier than I would have otherwise.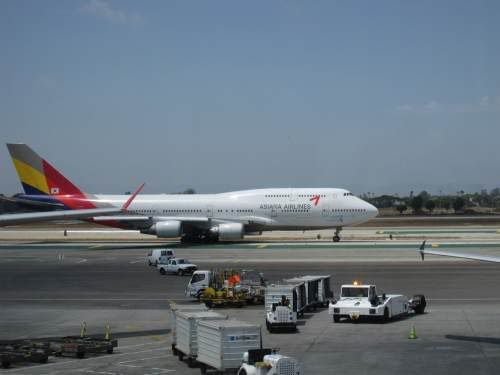 As I await my Air Canada flight, I am getting a look at another fine member of Star Alliance, the alliance that both United and Air Canada founded. That is an Asiana 747, with registration HL7428, operating as Asiana 201 and heading for the runway to start its 13-hour journey to Seoul. The last time I left the US, it was on that very aircraft, for the second installment of my 3-month Seoul stint (which eventually also took me to Hong Kong).
My flight on Air Canada (my first ever on Air Canada, and the third Star Alliance member I fly on) was on a standard Airbus A319, which nevertheless featured a video-on-demand system. Selections were not great, and air show was not available, but it did keep me busy almost all the way to Toronto. My re-booking was done as a full-fare economy ticket, so I did not even have to pay for the inflight snacks and sandwiches, but I did pay $6 Canadian for a can of Molson Canadian beer, just to set the mood right. (Not too impressed with Molson's taste, however, and I'll never drink any alcohol during a flight ever again.)
Pearson International is a lovely airport - reminds me a lot of Incheon, even down to crummy ground connections to the city. Due to the late-night arrival I shelled out $49 (Canadian, of course) plus tip for a cab ride downtown.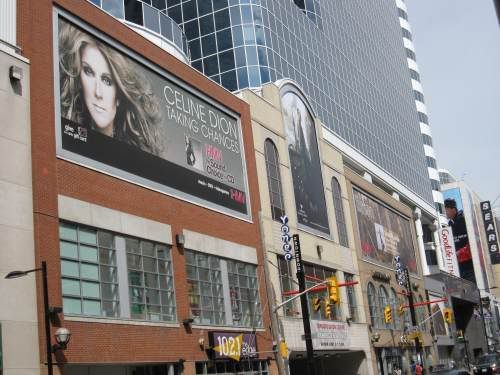 It's late morning, and I'm out for my first day in Toronto. I'm passing by Eaton Centre, located on Yonge Street, Toronto's main north-south street and also known as the longest street in Canada. My hotel, for that matter, is meditation-themed Pantages, only a block to the east.
Loving those billboards. There is an HMV record store, where I can buy the newest albums from two fine Canadian chanteuses - Celine Dion (representing Quebec and the French-speakers) and Sarah McLachlan (representing Nova Scotia & British Columbia, and the English-speakers).
During the previous day's Air Canada flight, I did find the Sarah McLachlan album - the
Closer
compilation - and make sure to listen to it. Did not find Celine Dion, but I substituted with an American, Mariah Carey.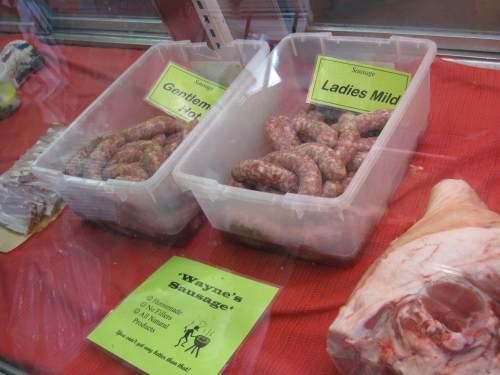 My first sight: St. Lawrence Market. There are lots of weird things available there, including sausages and other food items. Some are imported from Ukraine - or wherever else the various immigrant communities of Toronto hail from.
These sausages are Canadian domestic, but I took a photo to note its gender stereotyping.
Canada is very proactive about recruiting immigrants, and has a much better immigration policy than the US policy full of political calculations. Toronto overflows with a zillion nationalities - I see plenty of Muslim women with headscarves (and even a burka) around, and hear more languages than I can ever count. Even Spanish, which I associate more with the US than with Canada, is widely taught. And even though Ontario is an English-speaking province, I don't think a French speaker would have too much of a problem here (unlike Quebec, where speaking English is difficult, and British Columbia, where virtually nobody speaks French). And even with this flow of immigrants, Toronto managed to be the first North American locale to legalize gay marriages. Shame on you again, California!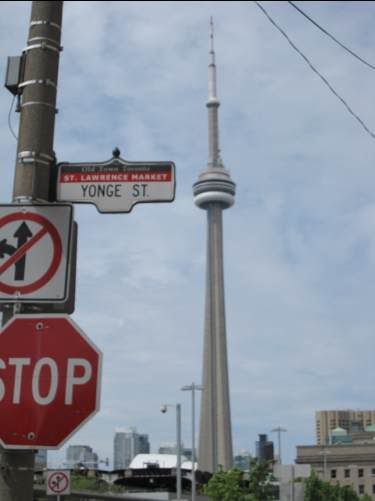 Leaving the market. I took this photo just to remind myself that I am in Toronto. Yes, I am back at Yonge Street (pronounced Young). And the CN Tower can be seen from just about anywhere in town.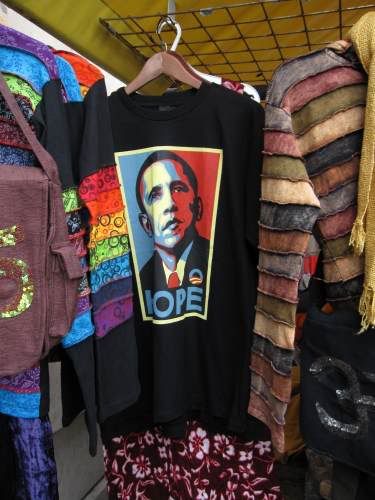 Another photo seen around the market. Sure, I may be north of the border, but President Obama is quite popular even here (maybe even more so than in many parts of the US). The Obama Presidency does signal that the US is walking away from 8 years of W cowboy diplomacy, and that Canada's own W puppet, Stephen Harper, is with fewer political options. I don't imagine that Toronto would have too many Harper supporters - most of them are out west in Calgary and Edmonton.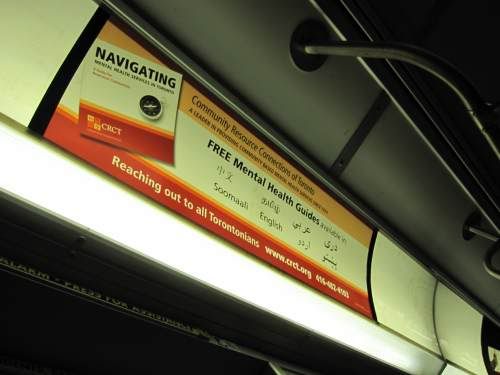 Back on the subway. I am using a $9 flash pass, good until 5:30 AM the next morning for unlimited travel on the Toronto Transit Commission (TTC) system.
Even though Canadian government services are more extensive than those in the US, community organizations still have key roles to play. Again, I am reminded of Toronto's polyglot makeup. Residents can get mental health services in the languages listed in this ad.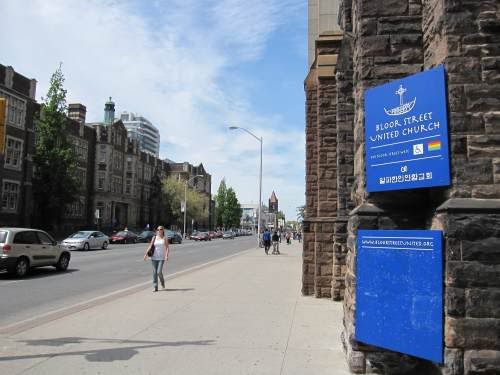 My intended destination was Royal Ontario Museum, which would require me to turn east from St. George station served by both of TTC's main subway lines. But as station vicinity maps always show north first (and I am used to them oriented the same way I'm facing, as was standard in Seoul), I got confused and walked west. Now I'm getting lost on the main east-west artery, Bloor Street, but getting lost is part of the fun.
Here is a liberal Christian congregation, which appears to welcome LGBTs. The congregation also has a Korean-language service. I don't think I'd see this mix back in the US - no Korean Christian church in the US would be caught dead sharing facilities with an LGBT-friendly congregation.
Speaking of the Korean community in Toronto, Koreatown sits on Bloor, further ahead to the west. In fact, I'll reach its eastern end at Bathurst before getting back on the subway to return to St. George and Royal Ontario Museum.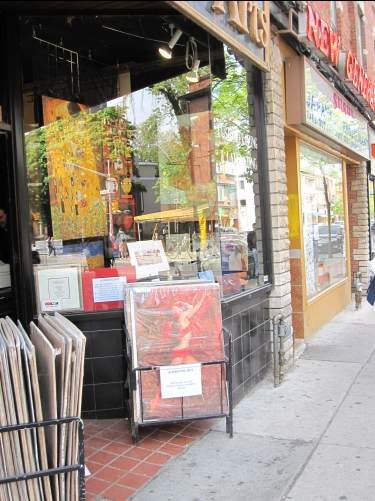 Still walking west on Bloor. Here is a sexy poster for sale at an alternative art gallery.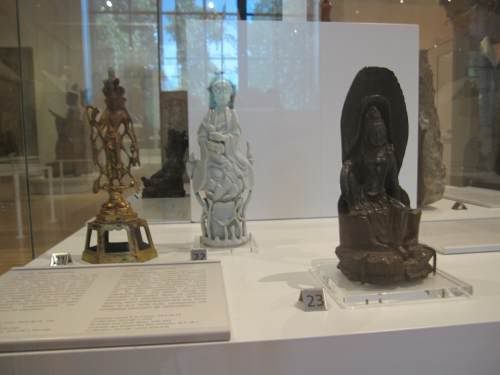 Now I am at Royal Ontario Museum, which combines a natural history museum with a world arts museum. And in either capacity, the collections are outstanding.
The Chinese collection is especially exhaustive. Thanks to the clout of the Chinese-Canadians (especially with all the Hong Kong wealth that migrated to Vancouver, and to a lesser extent, here to Toronto), Chinese culture gets healthy respect in Canada.
The above are three Chinese Kwan Yin statues, including an eleven-faced example and a fertility example. At Royal Ontario Museum, Kwan Yin is always referred to by male pronouns, but the captions do make it clear that from the 12th Century on, Kwan Yin was depicted in an increasingly female manner.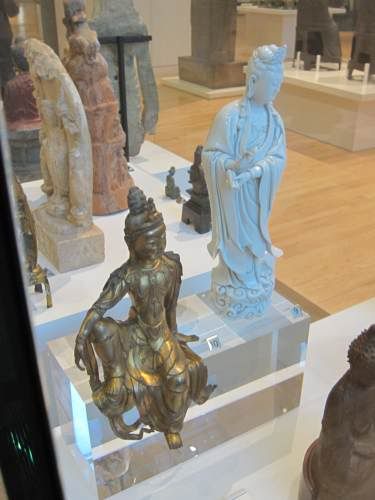 Two more Kwan Yins. There are over a dozen examples of all descriptions at Royal Ontario Museum. It was great to be reminded of my Hong Kong trip six months ago, where I got a near-overload of my transgender matron saint.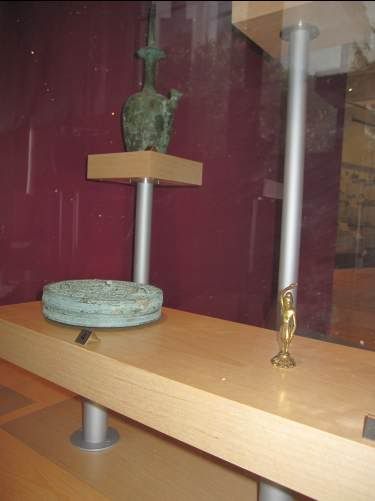 The Korean collection doesn't enjoy the support that the Chinese collection (from Chinese-Canadians) and the Japanese collection (from Japanese corporations) do, but it's still healthy.
No Kwan Yins, but I do see a newborn miniskirted Buddha, which is extremely rare even in Korea. The bronze water pitcher is also a familiar shape (though I'm more likely to see it in the form of the blue celadons). Speaking of blue celadons, there are a few dozen here, but none really stood out.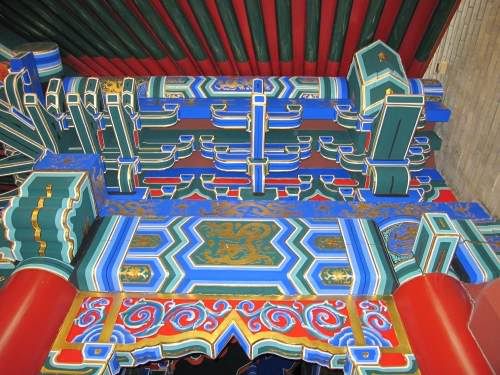 Back to Chinese collection. Here is a look at Chinese imperial building coloring scheme. I love it.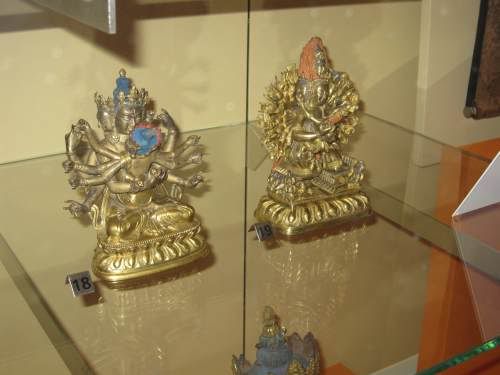 Some South Asian art. Here are some Hindu sculptures. It appears that in both examples, a male deity and a female deity are bonded together. The casual Western observer would interpret them as sex scenes, but in reality, these are not erotic, but express the Hindu understanding of making something whole by combining the male and the female.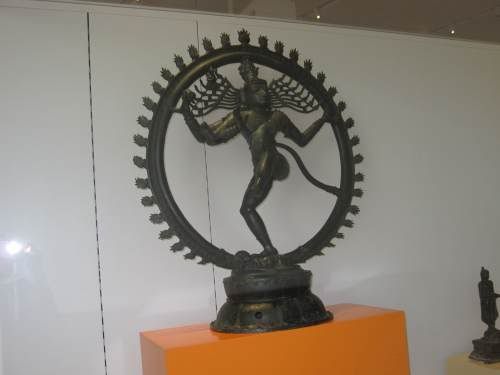 Six-armed Shiva, of course.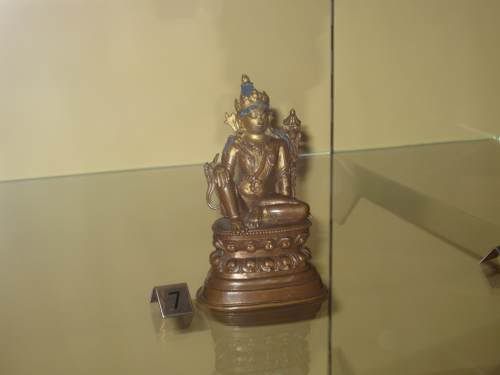 Tibetan Avalokitesvara - or the male version of Kwan Yin.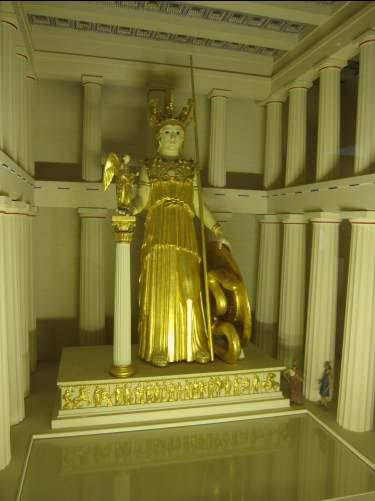 A model of the gigantic Athena statue that once stood in the Parthenon in Athens. The statue was removed after Greece became an Orthodox Christian nation, and the Parthenon was converted to a church. Eventually, the Parthenon became a gunpowder storage area, and an explosion reduced it to today's ruins.
Speaking of Athena, I'm back at that airline simulation game again - again flying Air Athena out of Athens. This game is set in the 1970s, however, and I am required to battle the spiking fuel prices and interest rates using the short-range, inefficient airplanes of the era. So far, I'm doing well.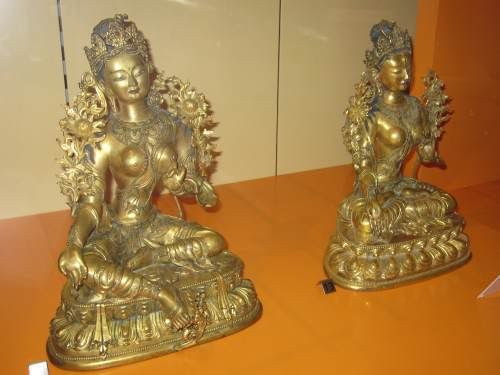 Two examples of Tibetan goddess Tara. Tara is often considered another version of Kwan Yin, as she is born from the tears of Avalokitesvara. The left is the Green Tara while the right is the White Tara. There is no ambiguity as to the gender identity of Tara; she is always female. I need to study Tara more, however, including the significance of the various varieties.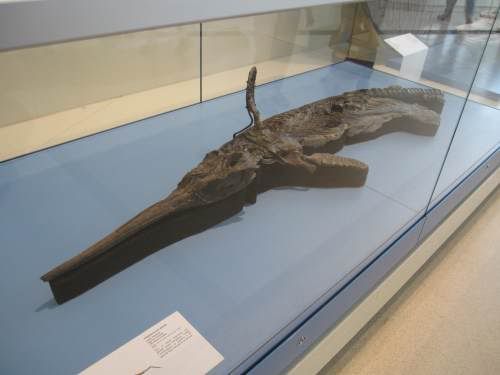 My favorite extinct animal would have to be the ichthyosaur, which was a dolphin-shaped marine reptile that lived during the dinosaur era. Here is a really nice example of an ichthyosaur, found in England, but not identifiable as a specific species. Of course, Britain, being a shallow sea 150 million years ago, had a huge ichthyosaur population.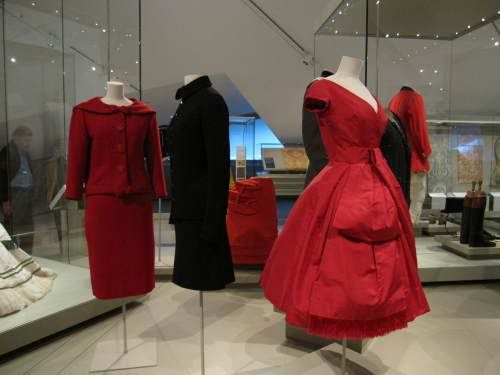 There is a textile department at Royal Ontario Museum. Here are three modern outfits I like. The red suit and dress are from the 1950s while the black suit is from 2004. The red suit had been in a very poor shape, with torn linings and all, but was nicely restored.
I was wishing for a 1990s miniskirt suit, however. :)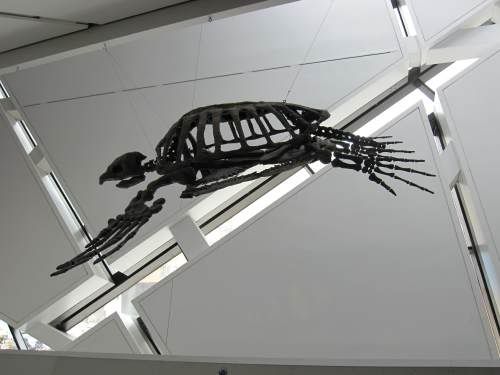 An extinct species of a huge turtle, suspended from the ceiling. That's a cast of a fossil rather than a real fossil.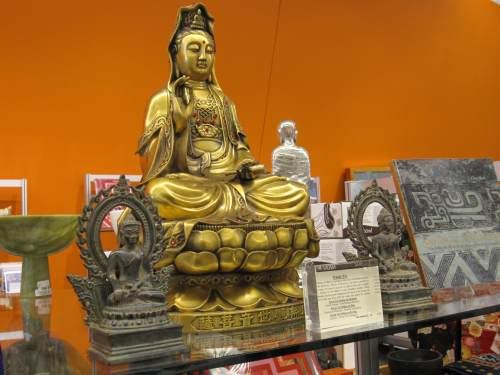 Museum shop, with a huge Kwan Yin for sale. Glad to continue encountering my transgender matron saint.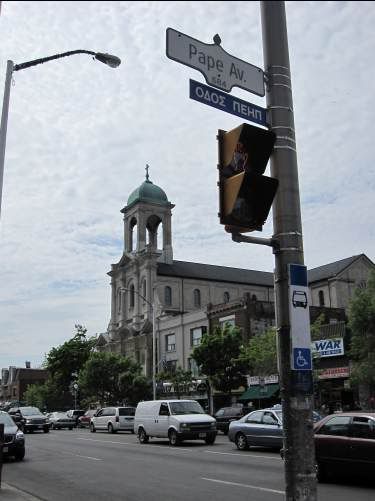 A shot east on the Bloor subway line brought me to Danforth Avenue, home of Greektown, probably the most famous/important of Toronto's ethnic neighborhoods. Greektown is the largest Greek enclave in North America, and Toronto as a whole has more Greeks than any North American city except New York.
As I had eaten a rather large breakfast at Fran's next to my hotel (Fran's is a Canadian equivalent chain to Denny's in the US), I didn't eat here. I'll be eating here later on, however. The Greek restaurants here run the gamut from run-down hole-in-the-wall places to touristy trendy expensive places to everything in between.
As seen in the photo, the street signs are in Greek as well as English. The word "avenue" is translated into "odos" but some of the Greek spellings of non-Greek names end up being interesting.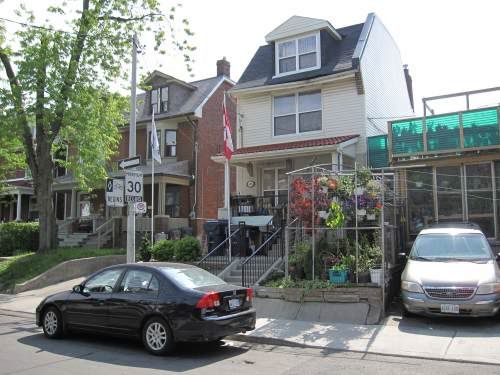 I had a bit extra time, so I shot back west on Bloor to Christie Street, the west end of Koreatown. There is a nice park in that area, but I decided to walk east across Koreatown.
Here is the Korean Senior Citizens' Center, marked by flags of South Korea and Canada.
This Koreatown is a pittance compared to the humongous one in Los Angeles, but is nevertheless respectable. A Korean speaker in Toronto can find just about everything s/he needs - grocery stores, travel agencies for those airline tickets to Seoul, restaurants, even karaoke bars. I was happy to not have to come across extremist megachurches, though the grocery store had a Christian propaganda newspaper published in the US.
Thanks to a more sensible immigration policy on the part of the Canadian government, and thanks to a different demographic of Koreans coming to Canada (more of a lifestyle choice than an economic opportunity), the Korean-Canadians on the whole are probably more sensible than the Korean-Americans. On the other hand, Korean Christianity is never to be trusted, and Christianity does play a key role in all Korean communities of the Western world; many Korean-Canadians, after all, are Christian extremists who are waiting for an opportunity to move on to the US. Another reason to move to the US: the Korean-Canadian community, unlike the massive Korean-American community (or the Chinese-Canadian community for that matter), is not at a self-sustaining level yet.
There is one more Korean note to write down. Toronto's subway system feels a lot like a better-maintained version of the New York subway, but it does have modern LCD TV status monitors that run news updates. Those monitors stated that South Korea's Roh Moo-hyun, who was the President as recently as 15 months ago, committed suicide. The last thing South Korea needs is another high-profile suicide!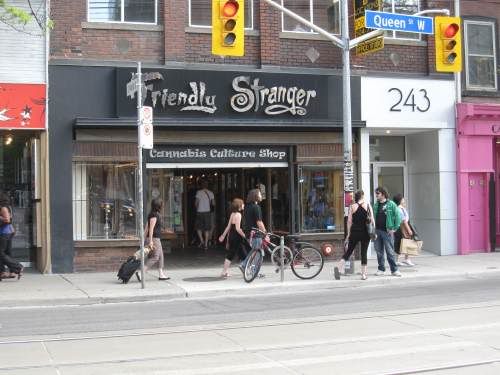 After walking across Koreatown, I returned to Bathurst, but instead of the subway, I took the streetcar down to Queen Street West. After going one stop east on Queen on another streetcar, I walked all the way back to Yonge.
There are lots of boutiques here - I ended up with a $9 belt from American Apparel (as American Apparel is made in Los Angeles and therefore cheaper in the US, I decided not to buy its other products today), as well as a $60 white shirt from Aritzia, a Canadian boutique chain. At Aritzia, the fitting rooms are a bit odd; I am required to store my purse in a locker, and the cubicles do not have mirrors so I must come outside for a check on the mirror. Not fun when I was working a sheer tunic blouse as a dress (with a cami and tights underneath) and the shirt was barely covering my derriere. I do have to say that I was far from alone in doing that "tights as pants" thing on the streets of Toronto today. And in terms of fashion in general, Torontonians are not standouts, but they do express their individualism and accessorizing very well - certainly better than Angelenos.
Walking further east, I came across this sight. This is another of those things I don't think I'll ever get to see stateside. The US is running its War on Drugs not as a serious attempt to regulate drug usage for the public's safety and health, but as some sort of a vendetta. The Canadians are a bit more level-headed on this issue, but of course there is a lot of American pressure to crack down. I hate drugs of any kind (even tobacco and alcohol are too much for me usually) but I don't like the US policy at all (which has actually turned the illicit drug industry into a very lucrative one).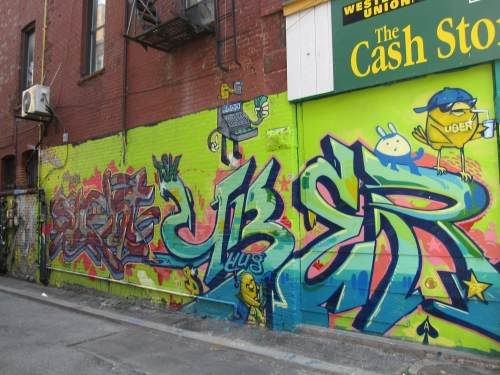 Lovely graffiti on a side alley branching off of Queen Street West. This is something my Seattle-based friend DiAnne Grieser would like (in addition to all the Kwan Yins and turtles). She is known to photograph local and foreign graffiti all the time.
The British, through the Magna Carta, established the concept of freedom of speech. Today, the northeast corner of London's Hyde Park has a Speakers' Corner, where anyone can give a speech on any subject.
Toronto is doing just the same. Here is Toronto's own Speakers' Corner. The only rules are that I may not give hate speeches targeting a specific demographic (I guess Miss "I Believe in Opposite Marriages Only" California will have to shut up here), and that I am responsible for anything and everything I say, including any adverse reactions from listeners.
Another British reminder: there is a Winston Churchill statue in the distance.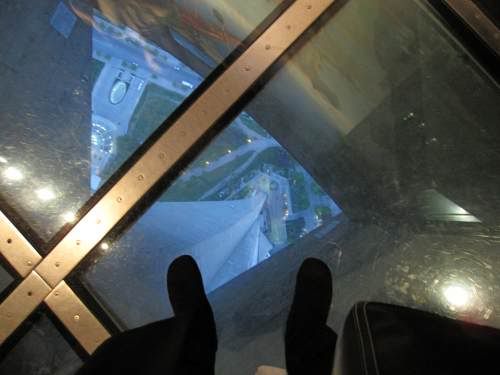 It was a warm, humid day, and my feet hurt, so I returned to my hotel room for a quick rest and change, then after a quick Mexican dinner at Eaton Centre, went to CN Tower.
CN Tower may not be the tallest building in the world anymore (there is a taller structure in Dubai now), but its top observatory remains the highest man-made observation platform in the world.
I am at the main observatory, which includes this glass floor section. I am looking 114 stories below to the ground level. And if anyone on the ground is looking up, they can see all the visitors lying down on the glass - as well as my lingerie preferences. (I did change into that white Aritzia shirt, and added a long suit jacket, but I am still doing that "tights as pants" thing, just like that other lesbian fashion icon, Lindsay Lohan.)
The top observatory, called the Skypod in English and la Nacelle in French, is 147 stories above ground level. I do have to say that with the Toronto area lacking any major geographical features, most of the inland views were quite generic, and not too impressive. But the Lake Ontario views were quite nice, from the Toronto Island and its airport in front to the faraway shores of New York State. On a very good day, I am told that I can even see the plumes of Niagara Falls - and the buildings of Rochester, NY.
That wrapped up Day 1. Now I need to figure out what Day 2 will be like, though I'll be sleeping in a bit as the TTC subway doesn't start its Sunday service until 9 in the morning.